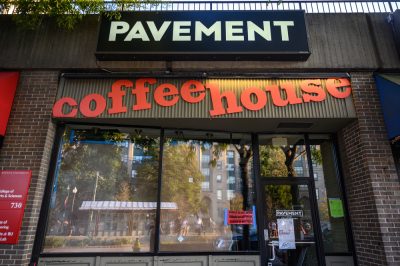 Timelines for the reopening of Boston University's Pavement Coffeehouse and Nud Pob Thai Cuisine locations remain unclear as repairs continue on the adjacent parking deck.
The repairs — which were sparked by damage from heavy rains earlier this summer — were set to take place over a few days. But as they uncovered more damage, BU hired engineers who extended the construction timeline, said President of Pavement Coffeehouse Andy LoPilato.
"There are some structural issues that require more extensive repairs and restoration," BU spokesperson Colin Riley said. "The consulting engineer recommended closing the operations of tenants so [BU] can make safe repairs."
Riley said BU should know a set date when the construction will be finished by the end of the week.
During the closure period, Riley said BU is coordinating with tenants to get their businesses "back up and running as soon as possible."
Former Pavement shift lead Michael Frontz said in the weeks leading up to the initial closure, there were leaks at the Commonwealth Ave. location.
"They were coming in and putting in leak protection, basically plastic over the ceiling so that it would catch the leaks," Frontz said.
Following these efforts, Frontz said he was initially notified that Pavement would be closed around the weekend of Aug. 19 for emergency repairs.
"It was supposed to be one week, then it was one to two weeks, then it was one to two months," Frontz said. "The last thing I have in writing is two to three [months]."
While Pavement's closure for the beginning of the school year is a disappointment, LoPilato said the repairs are necessary.
"That parking deck up above is so old that concrete has cracked and had issues over the years," LoPilato said. "Because it's an older building, because it's structural, it just takes more time [to get] engineers, the workers … so that it's done safely and correctly."
Despite the growing construction period, LoPilato said BU's been very flexible and attentive with the needs of his business.
"[BU] really wants to get us reopened as quickly as possible, so I couldn't be happier with the response," LoPilato said. "BU's been really on top of it and responsive."
Barista Lyn Hall said once it was clear construction would extend beyond a week, employees of BU's Pavement were given the option to continue working at nearby locations.
"They got us relocated for people who were into that, and if they didn't want to get relocated they were able to apply for unemployment," Hall said. "[Pavement is] dealing with it pretty well, like as well as they could. BU didn't really give us much notice."
Though the length of the closure is still uncertain, LoPilato said it will not change anything
about the existence of their location.
"We're all really bummed. We were looking forward to the school year, and students coming back. Our team at BU is fantastic," LoPilato said. "We fully intend to reopen."