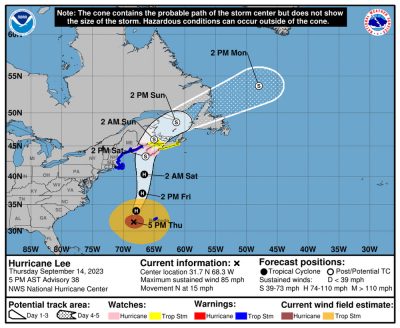 In a statement given Thursday morning, Mayor Michelle Wu urged residents to stay prepared in case Hurricane Lee hits Boston more intensely than predicted.
The center of Hurricane Lee is projected to miss Boston, veering east, according to the National Weather Service. The city will still feel conditions that are "anticipated to be similar to that of a Nor'Easter," Wu said in a city hall conference.
The NWS issued a tropical storm warning for Boston and much of the New England coastline that remains in effect as of Thursday evening and said Boston should expect winds up to 30 mph, approximately four inches of rain and potential flooding in parts of the city.
The NWS projects the storm will arrive late Friday evening and pass by Saturday evening, "peaking late Friday night into the early hours of Saturday morning," Wu said. 
"We have been preparing for several days across all departments in Boston," Wu said at the press conference. 
Due to the city's proximity to the harbor and its many low-lying coastal neighborhoods, the city will be ready to deploy sandbags and flood walls if necessary, Wu said. 
First responder teams of the Boston Police Department, Boston Fire Department and Emergency Medical Services will be on standby to assist any civilians in need of aid. Wu urged citizens to report fallen branches by calling 311 and any live wires to the Boston police department or Boston fire department by calling 911. 
"Our top priority is making sure that we are keeping all of our community safe," Wu said. 
According to an official statement from the Mayor's office, "the City of Boston works closely with a network of shelter providers" to ensure that residents experiencing homelessness have access to shelter. The Boston Public Library and Boston Centers for Youth and Family community centers will be open to accept all those in need. 
In a statement from Eversource, the energy company said they are "ready to respond to any power outages caused by the storm's high winds that are expected to impact Massachusetts late Friday through Saturday."
"At this time, we are expecting the worst of it to miss Boston," Wu said.