The Halal Shack and The Coop opened this week at the George Sherman Union, following the recent closures of on-campus dining locations including Healthy Blends.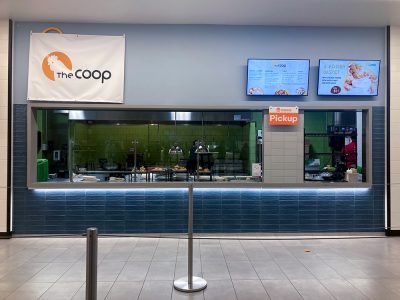 Michael Dingman, the national director of operations for The Halal Shack, said many students have been placing orders since the restaurant launched Sept. 5, replacing Halal Guys.
"Sales have been outstanding and the students have been great," Dingman said. "Everything's working very well so far."
The Halal Shack runs almost exclusively out of college campuses and has 18 locations around the country, according to its website.
The Coop, which replaced Open Kitchen, specializes in chicken options — including chicken tenders and chicken sandwiches. Rhett's has since removed its chicken offerings.
BU spokesperson Colin Riley wrote in an email that the decision to make campus eateries permanent is "carefully considered to ensure that they align with our student community's evolving needs and preferences." 
"The decision to add, remove or change a location or menu item is influenced by a combination of factors, including guest feedback, current food trends and popularity," he wrote.
Riley wrote that Healthy Blends closed in FitRec after the company did not satisfy consumers as BU anticipated.
"In the case of FitRec, we collectively determined that the existing model was no longer meeting the needs of the users," he wrote.
Riley said BU Dining Services will also launch a Farmer's Fridge vending program in the next three weeks, featuring protein bars, energy drinks and other healthy food options.
"We will continue to monitor the use and adjust according to demand," Riley said.
Sanaa Chokshi, a freshman in the College of Arts and Sciences, expressed her satisfaction with the Halal Shack because it provides more vegetarian choices, which are lacking on campus.
"They have good options," Chockshi said. "It's veg-friendly which is really limited for me out here because they don't have a lot of [vegetarian] options." 
The Halal Shack, founded by Jamal Rasoully, offers many vegan and vegetarian options such as make-your-own salad bowls, their signature "naanarito," and pita all using locally sourced ingredients according to their website.
Beamlak Mideksa, a freshman in CAS, said she appreciates the convenience of the GSU restaurants but would like to see more options in the future.
"I think I like it the way it is now," Mideksa said. "More options in the future would always be nice and it's better to have more options."
Victoria Hagen, a junior in the College of Fine Arts and CAS, said she was disappointed with the most recent addition because she was hoping the previous restaurants would still be operating.
"I like that they're here, but I kind of wish that we had some of our old things back," Hagen said. "I wish we did not have to get rid of them."