The Boston University women's soccer team (3-4-2, 0-1-0 Patriot League) dropped their first chance for in-conference points during Saturday's home game against Loyola University Maryland (6-2-0, 1-0-0 PL), losing by a final score of 1-0.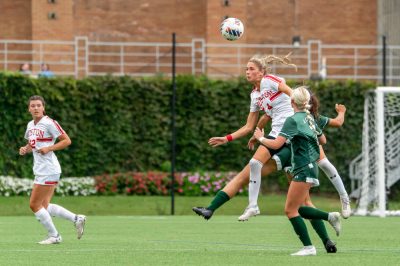 The Terriers dominated in the early part of the game, keeping the ball in Loyola's defensive half for a majority of the first ten minutes.
Loyola got on the board with their first chance and first shot of the game, as senior forward Chloe Kuminkoski's cross deflected off of junior goalkeeper Celia Braun to find the back of the net in the 15th minute.
The goal spurred on the visiting team for the rest of the opening frame, which saw the Greyhounds outshoot the Terriers and take three corners while BU only managed one.
"We had a tough little spell when they scored because it felt deflating. It felt very against the run of play," head coach Casey Brown said.
As the second half got underway, the Terriers appeared to have found their footing again, making progressive plays and maintaining possession even as Loyola attempted to clear the ball from their defensive third.
"[We needed] to have a response and know that we couldn't change what happened, but we could control the next 45 minutes," Brown said. "I thought the team responded really well."
Junior forward Morgan Fagan — BU's top goalscorer last season — has been a bit quieter this year in terms of scoring due to opposing teams putting forth great effort to shut her down. Despite not recording any shots against Loyola, Fagan was involved in many of the more positive moments and progressive runs from the right side, continuing to show her value to the team.
"[Fagan] is a threat that teams have to be aware of at all times," Brown said. "We get her the ball wide, we know that, more often than not, good things are gonna happen."
Sophomore midfielder Giulianna Gianino has started every single game she's played at BU, and led the Terriers in shots with four. All of them were off target, and none of the Terriers' nine total shots changed the scoreline.
"We need to be a little bit more ruthless in and around goal but I think we showcased a lot of what we want to be in possession," Brown said.
In the end, Greyhounds graduate student goalkeeper Paige Sim saved the two shots on goal she faced, securing a fifth shutout on the season and lowering her goals allowed average to 0.97.
As a team, Loyola earned their first road win and secured all three points in their first match of league play.
For BU, the afternoon's result was not an ideal opening to a run of in-conference games, but there were moments of promise and plenty to build on. They'll have to actualize that potential as the Terriers embark on six straight contests against some quality PL competitors.
"The Patriot League is very strong as a conference," Brown said. "The level has gotten so much better across the board and I think that's a good thing for all of us."
The Terriers will be hoping to find a better result as they get deeper into league play and the postseason approaches. They face a quick turnaround as they welcome another league foe in Colgate University on Wednesday at 6 p.m.
"We fell a little bit short today but obviously the performance was very strong," Brown said. "We have to build on that and that's what we are going to look to do for the next one."