By Lindsay Shachnow and Sydney Topf
A BMW driver lost control of his vehicle and spun out of control onto the B Line tracks on Commonwealth Avenue near the Boston University Bridge Monday afternoon causing T delays, according to MBTA Transit Police.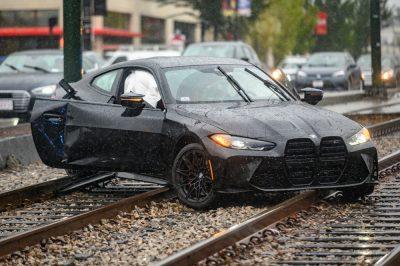 There were no reported injuries and the vehicle landed on the MBTA Green Line tracks by University Road, possibly due to slick road conditions, Transit Police Superintendent Richard Sullivan wrote in an email statement.
"This incident resulted in four flat tires, undercarriage damage and a deployed airbag to the aforementioned BMW," Sullivan wrote. "The vehicle was towed from the scene and [Green Line] service was delayed approximately 10 to 15 minutes."
However, the Boston University Police Department reported the accident blocked the Green Line trolley tracks for about an hour, BU spokesperson Colin Riley wrote in an email.
Jewoo Lee, a passenger in the car and a junior in the College of Arts and Sciences, said the rain caused the car to slip and land on the T tracks. He also said the left side of the door was damaged, but the engine and transmission remain intact.
Riley wrote that the car "apparently" skidded into the pole which deployed the vehicle's airbags.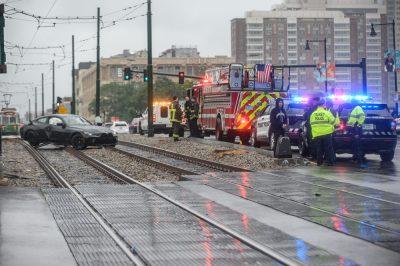 "We tried to dodge the car in front of us and then it spinned around and then it hit the pole," said Lee, who is friends with the driver.
MBTA Transit Police are investigating the accident and BUPD assisted at the scene, according to Riley.