Boston University announced a new safety resource on Sept. 13 called Safety Awareness for Everyone, an elective and online training module that prepares students for active emergencies.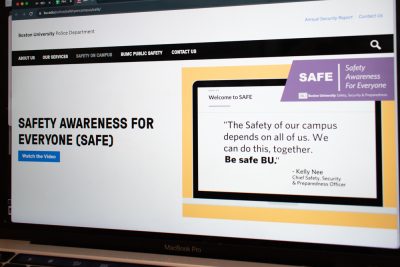 Dean of Students Jason Campbell-Foster sent an email out to students announcing the optional online resource, which covers both the BU Police Department and BU's safety plans while also presenting tips to help people maintain their own personal safety.
SAFE has two components, the first being a 12-minute video available to the public that outlines the support provided to the campus community along with basic safety tips. The second is a more comprehensive 30- to 40-minute online training that is available to students and staff, according to the resource website.
"These videos were produced to educate and empower individuals to take proactive measures to ensure their wellbeing and the safety of those around them in the event of a campus emergency," Campbell-Foster wrote in an email. "Understanding how Boston University responds and communicates with us during these instances … are fundamentally important tools in creating a culture of preparedness should the need arise."
Kelly Nee, Chief Safety, Security and Preparedness Officer at BU, led the initiative surrounding SAFE.
The idea of SAFE began a year ago after a series of presentations at the Aram V. Chobanian & Edward Avedisian School of Medicine concerning active shooter responses, which was attended by more than 400 people, Nee said.
"There was some concern that this … training was not available to everyone across the University," Nee said. "So the decision was made that we would do something, we would produce our own type of in-house information, similar to what we presented at the medical campus, but that we will present it so that every member of the community would have access to it."
Nee said various departments and individuals contributed to the creation of SAFE: the BUPD; Dr. Kara Cattani, director of Behavioral Medicine at BU; Rene Fielding, director of Emergency Management; and members of the Organizational Development and Learning department, Digital Learning & Innovation Office's Shipley Center, and the Diversity, Equity and Inclusion department at BU.
Larry Cuzzi, a captain in the BUPD, said his contribution to the conversations about SAFE included helping develop a similar program developed by the Commonwealth of Massachusetts.
"It was a great opportunity for us as an agency to showcase our abilities and work in collaboration with Dr. Cattani and all the other folks that participated in this to put this product together," Cuzzi said.
Nee said the goal of SAFE is to help students create a personalized emergency plan that works best for them and to be aware of their surroundings.
The SAFE resources came after students expressed outrage about BU's safety protocol and how to protect themselves during active shooter threats, following the hoax shooting last spring.
Nadia Fina, a sophomore in the Sargent College of Health and Rehabilitation Sciences, said the only safety resources she is familiar with are the blue-light emergency phones and the phone numbers provided on the back of her BU ID.
The project team behind SAFE is committed to increasing overall campus safety and asks for members of the community's input as they continue to develop the resource.
"We want to keep it time sensitive, we want it to be interactive," Nee said. "So the feedback from … the students is so critical to its success and whether it's accomplishing what we want it to accomplish."