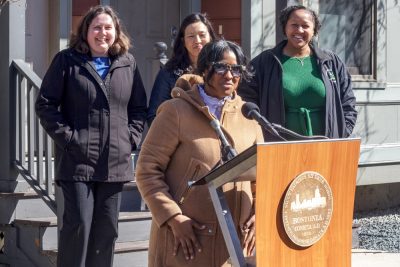 Boston City Councilors Ricardo Arroyo and Kendra Lara will not return to City Hall after losing in the preliminary election on Sept. 12.
Arroyo, representing District 5, received 18.53% of the votes, with candidates Enrique Pepén and José Ruiz moving on. Lara, who received 20.06% of the votes, was edged out by Benjamin Weber and William King for District 6, according to unofficial results published by the City of Boston.
District 7 was also notable. Councilor Tania Fernandes Anderson won the majority of the votes and will be running against Althea Garrison in the Municipal Election on ​​Nov. 7.
The three incumbents faced various individual controversies over the last few months that are thought to have contributed to the results of the race. 
Most recently, Lara, while driving without a valid license, crashed an uninsured car into a Jamaica Plain home on June 30. Her young son sat in the back and received stitches for his injuries. She pleaded not guilty in her arraignment in July and has since pushed back on how fast she was driving. A hearing to dismiss the motion is set for Oct. 20, according to WBUR.
"I have gone over [in] my head how many different ways I could have handled this, and there were times where we could have maybe minimized the amount of times that I had to get behind the wheel," Lara said in an interview with NBC Boston.
Weber, who was the frontrunner in the preliminary election, and his team said they did better than they expected in Ward 11 near Jamaica Plain.
"We were putting in work all over the district, banging on doors in every single ward, [spending] time in every single neighborhood across the district," Campaign Manager Aran Hamilton-Grenham said. "We have a bit more support than we would have initially expected."
Hamilton-Grenham said he believes the events surrounding Lara made voters "more receptive" to Weber, but he said Weber had support even before then.
"They appreciated his message. They appreciated his approach," Hamilton-Grenham said. "But, it made it easier, made people more inclined to come over to [Weber]."
According to a 2022 Boston Globe article, two women accused Arroyo of sexual assault for events dating back to 2005 and 2007, respectively. Arroyo has since denied those accusations.
Fernandes Anderson had to pay $5,000 when she admitted to a conflict of interest violation, in which she hired her sister and son to her staff and raised their pay, according to Boston.com.
In another notable race, Councilor Frank Baker of District 3 did not seek reelection, so John FitzGerald and Joel Richards will run in the November election. The Greater Boston Labor Council gave their endorsement to FitzGerald as well as most of the incumbents.
"[The organization] is proud to endorse candidates in Boston City Council races that demonstrate a strong commitment to workers' rights and to advancing policies that contribute toward the public good," wrote Darlene Lombos, executive secretary-treasurer of GBLC, in an email.
Oct. 28 is the last day to register to vote in the municipal election, with Nov. 7 being election day and voting taking place from 7 a.m. to 8 p.m.