The Boston University men's soccer team (4-2-0, 1-0-0 Patriot League) won their first conference match of the season after defeating Lehigh University (0-4-2, 0-1-0 PL) at Nickerson Field with a final score of 2-0.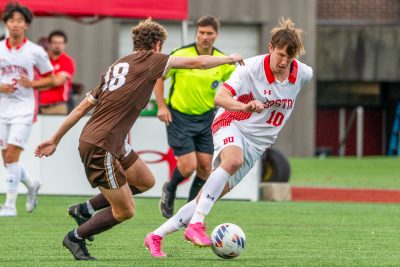 The win is a crucial bounce-back performance after a tough, 2-0 shutout loss ten days earlier against then-winless Merrimack College.
"We had 10 days to think about our worst loss of the season," head coach Kevin Nylen said. "We wanted to see a reaction, we wanted to see a response … and our guys found a way to find the result."
To recover from that result, the Terriers had to be patient and resilient against a relatively low-blocking, counter-attacking Lehigh side that happily waited and took advantage of good set-piece chances.
In the 44th minute, BU finally broke through. Sophomore defender John Roman won the ball back high up the pitch, then put a cross into the 6-yard box where sophomore forward Alex Bonnington just needed a piece of the ball to get it past Lehigh senior goalkeeper Blake Koski.
Roman, who saw action in 15 of 18 games in his freshman year, has earned himself a more regular starting role early this season.
"The jump from freshman year to sophomore year… is massive," Nylen said. "Sometimes people struggle with it, but I think it's been a really good progression for [Roman] and the entire sophomore group."
It isn't just the sophomores lifting the Terriers. One of the team's strengths is their collective experience, highlighted by another confident shift between the posts by senior goalkeeper Francesco Montali, whose second shutout of the season ties him for first among PL keepers.
Senior midfielder Eitan Rosen, another upperclassman, netted the Terriers' second goal in a similar fashion to their first: with the clock ticking down on the half.
A long, 90th minute goal kick from Montali found senior midfielder Aidan Bone in the Lehigh half. He slipped past a defender and got the ball to Rosen, who took a shot from just behind the penalty spot. The back of the net rippled and the final whistle blew as the Terries sealed their victory.
"There wasn't anything that we needed to change from [the] first half to [the] second half," Nylen said. "It was just [about] continuing to be patient in how we were playing and to find those pockets and I think we found them."
BU handed Lehigh their second shutout of the season while forcing the Mountain Hawks' winless streak to six games. The Terriers silenced Lehigh forward Perry Kingson, who is tied for his team's lead in points.
"It's nice to start Patriot League conference play at home as well as to find a result and get three points," Nylen said. "This was a big game to start conference play on the right foot."
The Terriers extended their home win streak with the win, and they'll now look to go down Commonwealth Avenue to face local rivals Boston College away on Tuesday, Sept. 19 at 7:00 p.m.
"[BC is] going to be ready for it. We're going to be ready for it," Nylen said. "[It's a] local derby and an in-state rival. It's going to be a good one."