"Morocco. A seat by the window, please." 
Cameron Crowe's legendary 2000 movie, about the fictional band "Stillwater" on the rise and a blossoming rock critic who travels with them on one of their tours, is an absolute inspiration to any who watch it.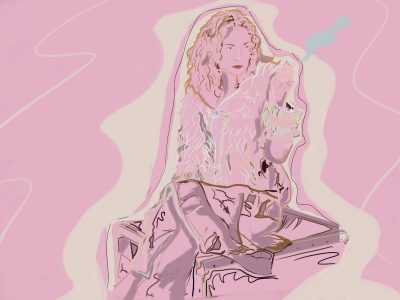 But with many characters in the movie — all of whom achieve a certain level of success at the end — there is a bit of ambiguity in terms of who became the most successful. 
But, after a close watch of the movie, it becomes clear that the true winner, the person who not only got what they wanted and deserved, but also got what they needed is Lady Goodman, better known as Penny Lane. 
There has been a long history in both literature and film of women having success at the end of stories. Think of Elizabeth Bennet in Jane Austen's "Pride and Prejudice," Elle Woods in "Legally Blonde" and so many more. These women all achieve greatness at the end of their films through being themselves while also unlocking their full potential. 
But what do all of these heroines have in common? A part of their victory is ending up with someone at the end of the story. Elle with Emmett, Elizabeth with Mr. Darcy, part of these female heroines' victories were defined by ending up with the dream guy at the end of the story. 
Now, this is not to say in any way that ending up with someone does not make a character a victor of the story. Ironically, more often than not in many stories, ending up with someone, particularly as a woman, is absolutely key to obtaining their "happily ever after." 
Today, it is still considered, and should still be considered, a victory if a woman ends up with someone at the end of the story. The key is that it is a triumph only if that is what the woman wants or needs. 
Penny Lane spends the entire movie in a struggle of an almost unrequited love for Russell Hammond, the guitarist of Stillwater. Our heart breaks for her as we watch her and Russell's relationship progress throughout the movie, culminating in her trying to overdose on quaaludes after she is refused entry to a Stillwater celebration dinner where Russell's girlfriend is present. 
In the past, I have attempted to idealize the relationship between Penny and Russell, even going so far as to hope Russell leaves his girlfriend so he and Penny do end up together by the end of the movie. But that is not what Penny needed, and ultimately Penny realizes it was not what she wanted either.
The reason Penny Lane, above all other characters, was the true victor of this movie is not specifically because she didn't end up with a man but because she realized that it was not essential to her victory. More importantly, it's not what she needed as a woman to be happy in her life.
She chose to follow a different dream, and by doing so, she departed from the common trope of victorious women in film and literature ending up with the dream guy at the end of the film. 
And Penny Lane not only departs from this trope of women in film and literature, but she does so willingly as well. This is what makes her victorious over the other characters in the film. Do many other characters, such as Russell and William Miller, find their happiness and their victory at the end of the movie? Yes, they do. But do they do it willingly? That is a more complicated question. 
For some context, at the end of the movie, Russell has never given William the interview with him that William desperately needs for his article, and then proceeded to screw over William by claiming to Rolling Stone's fact checker that William told lies about Stillwater in his piece, which was not true. 
Penny and Russell's relationship had just come to a head in New York when she almost overdosed. Russell proceeds to attempt an apology to Penny and asks to see her, but instead she gives him William's address, leading to the realization among the two men that Penny brought them together from the goodness of her heart.
Russell apologizes to William, finally granting him the interview and telling the fact checker that he lied so William's article can be published. All while Penny pursues her dreams of going to Morocco. If that is not the actions of a true victor, I do not know what is. 
Penny Lane paved the way for a new woman in cinema and literature. A woman who not only does not need a man, but a woman who actively chooses not to be with the man of her dreams to follow a different path instead. We see this in cinema today with movies like "Barbie", and it all goes back to Ms. Penny Lane.