Over the span of three months, the executive board of Boston University's newest gun violence prevention group planned their first ever event, collaborating with several local advocacy groups. On Sunday, their efforts culminated in a free concert to raise awareness for the cause at Bill's Bar, with performances by Earl on Earth, Beach Nights and Legends of Summer.
BU Students Demand Action, a new chapter of the national organization with the same name, is passionate about bringing students together to talk about the impacts of gun violence, said Shana Weitzen, a junior in the Frederick S. Pardee School of Global Studies.
While the BU chapter is new, the idea has been one in the making.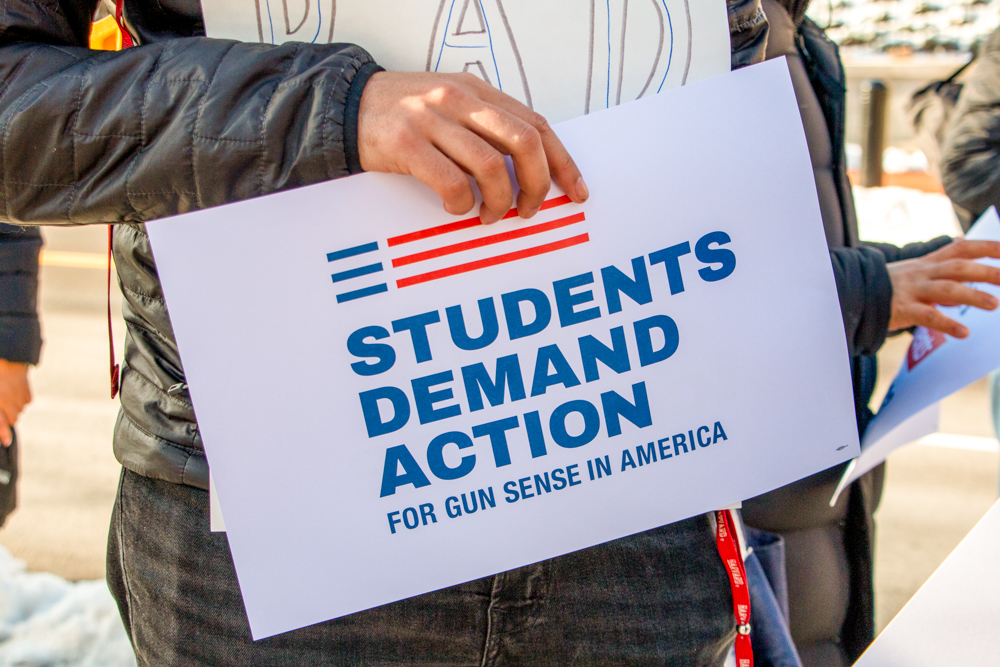 Weitzen joined forces with Maxine Slattery, a graduate student in the Aram V. Chobanian and Edward Avedisian School of Medicine, last April and set up a table in front of the College of Communication. The two used Slattery's resources as a volunteer for the national chapter of SDA to gauge public interest for a BU chapter of SDA.
"A lot of students came by and expressed interest in wanting to start a chapter at BU because they had been involved with Students Demand Action in high school and definitely saw the need for a chapter at BU," said Slattery, who now serves as the vice president of BU SDA.
Like many of the students who expressed interest in a BU SDA chapter, Sarah Bores, a junior in Frederick S. Pardee School of Global Studies and the chapter's secretary, has previous ties to the organization.
Bores was involved in a local SDA chapter in New Jersey, which discussed gun violence, safety measures and upcoming laws.
"As soon as I heard the possibility of continuing it, I was very eager to take advantage of that," Bores said.
From tracking legislature to giving the divestment petition another go to collaborating with surrounding colleges to engaging in conversation and activism, there's a lot in store for BU's new chapter of SDA, Bores said.
"Students Demand Action is an organization of students passionate about raising awareness of gun violence and working to mitigate it and create a safer environment for everyone," Bores said.
As issues of gun violence progress through the country, Bores hopes the club will host events in reaction.
"Like, 'this happened, let's talk about it,'" she said.
Weitzen, the president of BU SDA, has advocated for gun control legislation since last academic year.
Last summer, Weitzen started a petition for the Board of Trustees to permanently divest from the gun industry. While BU doesn't have any current investments in the gun industry, the petition aimed at getting reassurance that they will not invest in the future, Weitzen said.
After jumping through many hoops, meeting with and getting a recommendation from BU's Advisory Committee on Socially Responsible Investing and accumulating 1,265 signatures as of Tuesday, the petition was denied.
However, Weitzen said she wasn't shocked by the Board of Trustees' decision not to divest.
"The Board of Trustees' primary role is to make money for the institution," Weitzen said. "As students at this institution, it's upsetting that we can't have our voices heard in some of the most important forums of discussion."
Weitzen said that BU attracts students from all over the world, where issues of gun violence can look dramatically different.
"We're not just focused on mass shootings at schools," she said. "We want to be a space where survivors of gun violence, students who have been impacted in any kind of sort by gun violence, can feel open to coming and like speaking with us and sharing their stories and advocating for gun reform."