Boston University's field hockey season is underway on their brand new home turf in head coach Sally Starr's historic 43rd season. In their first six games, the Terriers (3-3, 1-0 Patriot League) have played some exciting overtime matches and high-scoring games.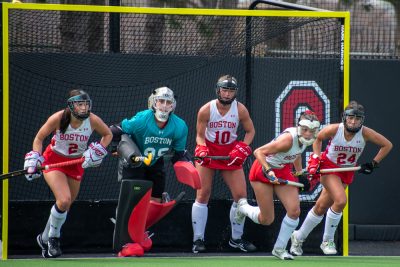 Terriers blank Crusaders 4-0 in first PL game
BU defeated the College of the Holy Cross 4-0 on Monday in their first in-conference game. The Terriers scored off a penalty corner just 19 seconds into the matchup when sophomore forward Martu Coulo tipped in a shot from junior back Payton Anderson.
"Creating a great goal-scoring opportunity immediately is awesome," Starr said. "It took a while for us to really put the game away, but there were so many great opportunities in that first half."
In addition to Coulo's early goal, sophomore forward Caroline O'Brien, Anderson, and senior midfielder and back Pili Alvarez all scored en route to the win, with Alvarez notching her first collegiate goal. 
New Zealand native and senior goalkeeper Kate Thomason earned her first collegiate shutout in front of her parents, who traveled from New Zealand for the game.
"Really happy for her that she got that first shutout in front of her mom and dad," Starr said. 
"She's getting the confidence, and it's a good thing to see at this time of year for sure."
Strong young offensive talent provides high scoring
The Terriers have not been lacking in scoring this season, with four goals in each of their previous two games.
One key scorer is O'Brien, who leads the team with five goals thanks to a hat trick against the University of Vermont (3-4) on Sept. 10. Last week, O'Brien was named Patriot League Offensive Player of the Week.
O'Brien, who is a transfer from Wake Forest University, "fit right into [the] culture," Starr said. 
Two prominent players, senior forward Tess Csejka — who led the team with ten goals in 2022 — and junior midfielder Ella Rottinghaus are medical redshirts this season, so O'Brien has filled those big shoes admirably.
"It was a tough void to fill with those two experienced forwards that we're not able to use this year," Starr said. "Thank goodness she did come in."  
Coulo, the reigning Patriot League Rookie of the Year, has continued her offensive success with five points this season.
"[Coulo] is dangerous every time she touches the ball and is an exciting player," Starr said. "Across the board, we just have some good, young forwards who are really exciting."
Strong defensive unit provides leadership
Veterans have provided leadership and skill in the backfield. Anderson, who played as a forward in her first year, won Patriot League Defensive Player of the Year in 2022. 
"She's embraced the position. She's gotten better as a defensive player," Starr said. "She's really pivotal at both ends of the field."
Senior back Rachel Borzymowski has been a staple of the field hockey team since she joined the team in 2019, making 13 starts that year. 
"Her leadership is outstanding. When [Borzymowski] talks, everyone listens," Starr said "We're really moving her about a little bit more, which gives us a lot more versatility."
Starr responsible for alternating conference and non-conference games
While the Terriers have already begun PL competition, they will still compete with non-conference opponents throughout the season. 
"I really try to work the schedule that way so that we can have good non-conference and quality non-conference games as well," Starr said. "Teams that are really gonna continue to challenge us." 
This weekend alone they will play against PL foe Lehigh University and non-conference squad Monmouth University.
"I'm excited for this team and excited for the opportunities that we have this season," Starr continued. "Everybody's getting better individually. We're getting better collectively."