The Boston University women's soccer team secured their first conference victory of the 2023 season against Colgate University at Nickerson Field on Wednesday with a 2-0 shutout.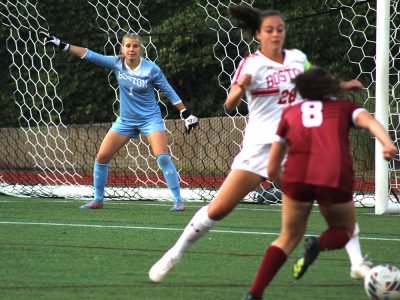 BU head coach Casey Brown emphasized the importance of conference games and how the Terriers' previous loss against Patriot League opponent Loyola University Maryland led them to success on their home turf.
"There was a lot of fire in our bellies that we wanted more," Brown said. "It's not just about wanting it. It's about finding a way to be successful and proving it, and there was a real intention from the last game coming into this one."
The Terriers (4-4-2, 1-1 PL) displayed remarkable determination as they aggressively defended their home territory during a tight defensive first half of the game. With the Raiders (1-7-2, 0-1-1 PL) relentlessly taking 10 shots, BU's defense and junior goalkeeper Celia Braun diligently guarded the net. 
However, the offensive efforts were by no means one-sided, as the Terriers retaliated with their own six shots. Even during a back-and-forth first half, BU players demonstrated their resilience and ability to swiftly transition from defense to attack, keeping the Raiders on their toes.
"It was a pretty classic conference game. It was a real battle on both sides," Brown said.
Brown said the halftime strategy was to encompass the numerous shooting opportunities by gaining more control over the ball, they "did a lot of defending [in the first half]," and "the game was too stretched and too vertical," she said.
The second half continued to witness a high level of offensive intensity. Colgate senior midfielder Sara Anelli made a determined goal attempt within the first three minutes, resulting in Braun's fourth crucial save of the night. 
The unwavering offensive efforts seen between both teams revealed a heightened level of toughness on the field when it came to harnessing scoring opportunities. 
While the game was filled with action, the majority of it witnessed a lack of goals finding the back of the net.  
It wasn't until the 86th minute of the match that Colgate junior goalkeeper Alli Popham was unable to prevent BU sophomore midfielder Mackenzie Stickelman, with an assist by junior midfielder Eileen Solomon, from scoring.
The Terriers did not halt their momentum there, as junior forward Morgan Fagan replicated the success in the 88th minute of the game, benefiting from an assist by sophomore midfielder Giulianna Gianino. 
The late goals secured the Terriers their first conference victory of the season and served as a testament to the Terriers' persistent attack.
The Terriers face a quick turnaround and are preparing for their upcoming away match against Lehigh on Sunday at 2 p.m. 
"This group has been eager and hungry to get better each game, and that's what we have to keep doing," Brown said.