A new season has arrived and so have many changes in the footballing world. The summer is a chaotic time, with transfers shaking up leagues, managers being sacked and fans having renewed hope and ambitions for the next season, no matter how bad or good their last season may have been.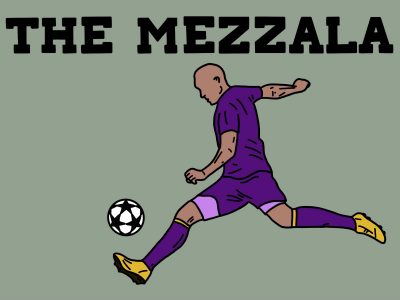 Jude Bellingham has been on the hot spot for several years now. The 20-year-old Englishman first achieved international attention while playing for German giants Borussia Dortmund, commonly seen bossing the midfield with his great versatility. Throughout a match, Bellingham transitions from a defensive midfielder, winning the ball confidently, to connecting play further up the pitch and eventually taking part of a successful attack, finishing in a role better described as an attacking midfielder. His ability to succeed in all parts of the central areas in the midfield along with his football IQ beyond his years warrants his 120-million-euro price tag in his blockbuster move to Real Madrid. 
Although Bellingham is already a world class midfielder, competition for playing time in the middle of the pitch for a club like Real is fierce. Veterans like 2018 Ballon d'Or winner Luka Modric and the ever-consistent Toni Kroos, along with other young up and coming prospects like Federico Valverde, Eduardo Camavinga and Aurélien Tchouaméni, are also gunning for action. 
Real manager Carlo Ancelotti almost always sticks to a 4-3-3 system, so there are only three spots in the midfield. While Bellingham has already shown his worth with 8 goal contributions in his first 7 matches at Madrid and so many great options for Ancelotti to choose from, it is still up in the air how much involvement Bellingham will have in this season.
Declan Rice, another Englishman, has also been the subject of a massive transfer. With a 100-million-euro fee plus 5 million in add-ons, the former West Ham United man is now a Gunner. Following the departure of Granit Xhaka in the summer, a defensive midfielder was needed to replace the former captains' shoes. 
Throughout the 2022-23 season, the most critical role on the pitch for Arsenal was the defensive midfielder, with Thomas Partey and Xhaka performing wonderfully to help Arsenal finish second, only behind the all-impressive Manchester City. Rice is one of the missing pieces that Arsenal needs for a chance of overtaking City (the other being a center forward), as manager Mikel Arteta relies on the performance of strong and versatile number 6s to lead both his defense and attack. 
Many have complained that the price for Rice has been inflated by "English tax", but I believe the price tag is mostly fitting. The team receives a young player with plenty of experience on the club and the international stage who fills arguably the most critical part of its squad. It is a no-brainer that a club would pay staggering amounts for such a valuable piece. 
In his time at the Emirates Stadium so far, Rice has been that solid rock in midfield, winning and advancing the ball and allowing the fast and creative Arsenal wingers to create and launch devastating attacks. 
Moisés Caicedo, another former Brighton player who has been snatched up by a big club for an egregious amount, joins his former teammate Marc Cucurella. Despite playing in a similar position to Rice and also having stellar performances at Brighton, Caicedo's start of his Chelsea career has been a bit rocky, conceding a penalty in his very first game for the Blues. 
His performances have not been the best at Chelsea, but it is not necessarily his fault. Both Chelsea and Manchester United, former footballing giants, are failing to make positive developments despite their large spendings. At this point, after a surge of new signings and managerial changes, this can only be attributed to the club's culture. 
Caicedo may have very well destroyed his career after turning down Liverpool to go to Chelsea. While Liverpool just needed to fill in their midfield with a solid player, guaranteeing Caicedo plenty of playing time and quality around him, Chelsea has had an insanely dysfunctional system since the departure of Thomas Tuchel — players do not match with each other at all. It is already hard to adapt to a new club culture, but when the culture itself is not solidified, it can only spell doom for one's career.