On Wednesday morning, Boston University officials named Melissa Gilliam the University's 11th president, making her the first female and first Black president in the school's 184-year existence.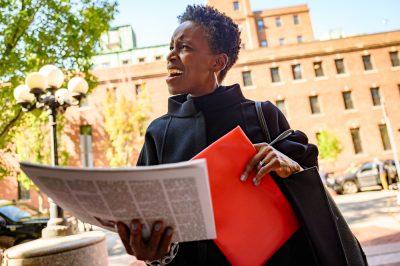 Gilliam, the current executive vice president and provost of The Ohio State University, is set to assume the presidency from interim President Kenneth Freeman on July 1, 2024 and officially succeed former President Robert Brown.
Gilliam's appointment comes at such a volatile time in the school's history. BU faced criticism in May after naming David Zaslav as the 2023 commencement speaker. The student body protested the choice due to Zaslav's role in the failed negotiations that led to the Writers Guild of America strike, but the University remained firm in their selection.
The University made national headlines again in September after reports revealed mass layoffs and alleged mismanagement of funds at the Center for Antiracist Research after garnering over $43 million since its inception in 2020. 
Many within the BU community are looking for a reliable leader to shape the future of the University. Gilliam is the perfect person to do just that. 
Not only does Gilliam bring a diverse voice to the institution's leadership — one which it noticeably lacks — but her impressive educational and professional background suggests that she has the ability to make a positive and lasting impact on BU's culture. 
Gilliam studied English literature at Yale University and earned her master's degree in philosophy and politics from the University of Oxford. She also has a background in science and graduated from Harvard Medical School — later becoming a professor of obstetrics and gynecology and pediatrics at Ohio State. 
This diverse academic background is perfect for what BU needs in a leader. Gilliam's interdisciplinary knowledge allows her to approach any issue from a variety of perspectives. 
In the past, BU leadership has ostensibly neglected the needs of the student body in favor of promoting research. Gilliam has the opportunity to change that trend as well as the experience to do it successfully. 
At 58 years old, Gilliam is relatively young for her new position at BU. Her age allows her to connect with the younger student population and reinstall a feeling of trust between the students and the administration. 
Gilliam, who has worked with children throughout her medical career, seems to have a great understanding of how to best approach working with younger generations. 
Having an approachable president is vital in order to address the institutional issues many students face, such as tuition and the cost of housing. 
The total price of attendance before aid is currently estimated to be $86,363 and continues to increase each year, making it very difficult to attend school. 
The price of tuition can be a deterrent for high school students looking to attend BU, especially those who come from marginalized and historically-oppressed communities who might struggle financially. 
The decision to attend higher education shouldn't be determined by one's ability to pay tuition. Financial aid, while it does help alleviate some of the burden, does not provide nearly enough financial support for most students. Additionally, student loans tend to leave college graduates in debt for years after graduation. 
With her new position, Gilliam has the opportunity to become a trailblazer in lowering the cost of higher education. Not only will this help current students who struggle to make ends meet, but it will also attract a more diverse student body — something BU has been striving to accomplish for years. 
The spike in tuition can be largely attributed to the increasing cost of housing, both on and off campus. On-campus housing accounts for an average of $11,600 on a student's yearly bill and can be much more expensive depending on the type of housing. 
This is an absurd price, especially considering the poor conditions many students live in. Many campus residencies have a plethora of issues, such as the lack of air conditioning, mold and animal infestation. 
By simply diverting resources away from renovating non-residential buildings and toward fixing the housing crisis at BU, Gilliam could drastically improve students' on-campus living conditions. 
Although this is a lot to put on the shoulders of a person who was announced as the president less than a week ago, it's a reasonable ask for students who have long been neglected by the University's leadership. 
However, Gilliam doesn't have to immediately accommodate all the needs of each student for her legacy to be considered a success. The most important goal for Gilliam should be restoring the line of communication between the student body and the school administration. 
And, if anyone can accomplish that, it's Gilliam. 
It's not unreasonable to remain hesitant to embrace Gilliam. She was selected by the same board of trustees who supported Brown as he continuously let down the student body. Gilliam has to show she is dedicated to making a positive change before her appointment can truly be considered a victory.
But, for now, students of Boston University should be hopeful about the new direction of the school's leadership. Gilliam has all the qualities of a strong leader and has proven herself to be capable of making change. 
There is still a long and tough road ahead for Gilliam and the BU community. Yet, for the first time in what feels like a long time, there is a light at the end of the tunnel. 
This Editorial was written by Opinion Co-Editor Brett Abrams