A 40-year old man clad in mesh, two men dressed as nuns and the Devil walk into a bar in Fenway. The Devil turns to one of the nuns and says, "I'm really looking forward to the Kim Petras show tonight!"
Following "Feed the Beast," she dropped "Problématique" on Sept. 18. Petras originally intended the latter to be her debut, but delayed the album's release after it was leaked earlier this year. 
On both albums, the German-born artist has solidified herself at the helm of pop music. Included in the show's tracklist was the single "Unholy," a collaboration between Petras and Sam Smith that topped the Billboard charts and snagged a Grammy for best pop duo/group performance.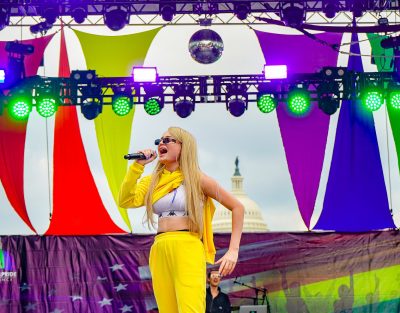 In concert, Petras almost transcends description. As soon as you are sure you have her pegged, she switches to the next song and reinvents herself all over again. In her hour and a half at MGM on Oct. 7, Petras changed outfits seven times.
In her grand entrance, Petras emerged from an iron maiden as blinking red lights cut through clouds of smoke. Videos of Petras encircled by hands in a fiery void flashed behind the popstar as she dove into the album's titular track, "Feed the Beast." Petras lured the audience to give into their beastly desires, singing, "I know you wanna feed the beast / It's time to let me off the leash / Come put your hands all over me."
Those unfamiliar with her oeuvre might be quick to condemn Petras' music as satanic and unladylike — comments she would without hesitation accept as compliments. 
Essential to Petras' act are the motley influences she includes in her image. B-movie horror, sex and comedic extravagance meld together to shape her stage presence. Perfectly on theme for the impending Halloween season, Petras' act passionately embraced the macabre. Flashing images of vampiric figures and bodies impaled on towering spikes loomed over the singer as she cast her spell over the audience. 
Included in Saturday's setlist was the entirety of Petras' 2022 EP "Slut Pop," titled after a genre she wears with pride. With tracks like "Throat Goat" and "XXX," Petras embraces her promiscuity. The first time I listened to "Superpower Bitch," I had a hard time not blushing. In concert, however, any hint of embarrassment quickly turns into adrenaline. 
The music underlying her bold lyrics is not uninspired or generic, either. Petras wears her influences on her sleeve, creating fast, punchy beats that would not be out of place at a house show. In the song "Treat Me Like a Slut," Petras pays homage to the seminal house duo Daft Punk, singing "Hotter, bigger, faster, longer, thicker," in place of Daft Punk's "Harder, Better, Faster, Stronger."
It is plain to see that Petras' music does not cater to male audiences. Her lyrics of sexual gratification and the sex positions which she pantomimes on stage only serve to elevate her power. In her songs, men serve to pleasure her and her ego — not the other way around. 
Petras gripped the audience's focus and refused to let go. Despite the flashy gels, piercing strobe lights and the mesmerizing graphics on the screen behind Petras, all eyes remained on her. Even when she was offstage changing into her next costume, all I could wonder was what sensation she would create next. 
Near the end of the concert, Petras briefly lifted the veil of her stage persona to thank the audience for giving her the chance to perform. 
"It means the absolute world to me that I get to be on this stage and be myself," she said. "And I hope that I can give you the same kind of confidence back that you guys give me every night."
Ultimately, that is what a Kim Petras concert is all about: indulgence in self-expression and authenticity. As a transgender musician, she has developed her act to be an important space for the LGBTQ+ community, away from the national trend of anti-trans legislation.
Petras closed the show with her emotional ballad "Everybody Dies" from her mixtape "TURN OFF THE LIGHT." In a long, glittering dress, Petras belted with the crowd, "Not everybody lives / But everybody dies." In a melodramatic yet touching moment, concertgoers lit up the hall with a sea of swaying phone flashlights.
For the encore, Petras returned to the stage elevated on one of the testicles of an enormous penis tiled with mirrors to resemble a disco ball. Behind her, a rainbow arched across the screen as pink and purple lights flashed. It was the most impressive concert set I have ever witnessed.
In an outfit that would not be out of place in the Barbie movie, Petras strutted across the stage singing, "I'm a little bit dramatic / Little real, a little plastic / I just keep on wreaking havoc" from the track "Problématique." 
As Petras descended below stage and the audience began to file out of the venue, I still heard choruses of concertgoers echoing "Get up, up on your feet (Up on your feet)" as we bustled into the night.