The Boston University men's soccer team rebounded from a deflating end to the first half to tie 1-1 with Northeastern University on Tuesday afternoon.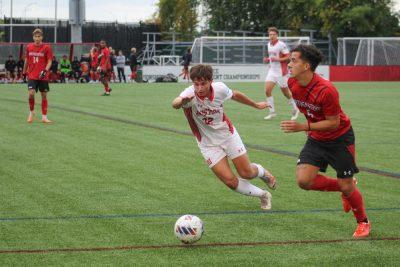 The Terriers (7-3-4, 4-1-1 Patriot League) came into the game having suffered just their second shutout loss of the season over the weekend at Lafayette College and returned to decent form in the comfort of Nickerson Field. BU extended its home undefeated streak to seven and have one home game remaining in the regular season.
The first half — after 44 minutes of a scoreless, shotless stalemate — ultimately went in the favor of the Huskies (3-6-5) after BU junior defender Neal Carlson deflected a Northeastern cross in for an own-goal, leaving little time for the Terriers to respond before returning to the locker room.
"I told them that you can't play for [just] 43 minutes and 30 seconds, you've got to play 45 minutes," head coach Kevin Nylen said. "Simple message at halftime: continue to find the space."
The Huskies had not managed a win since their 4-0 shutout of Harvard University over a month ago, and that streak extended to eight games as they were unable to hold the Terriers down in the second half.
BU's lineup that opened the afternoon was quite the change from the more typical starting 11 as it was composed of mostly underclassmen, but Nylen explained the decision as a need to keep players rested and fresh.
"Every guy who started tonight has played this season, maybe not at the consistent starting [role], but everybody had played minutes," he said. "We felt that it was a good time for [resting] legs, after a weekend and a bus trip."
In the 57th minute, however, Nylen made substitutions that injected the team with considerable experience and offensive production. Four of the five players subbed on have combined for 12 goals and 11 assists for the season, including senior midfielder and forward Eitan Rosen, who currently leads the team in goals.
As he has been doing throughout the season, Rosen provided a needed spark in attack, notching the game's first shot on target within a few minutes of taking the field. Later, he placed another shot just wide. Five minutes after that, Rosen sent in the equalizer for the Terriers in the 82nd, bringing life back to the BU offense.
"[Rosen] was linear, he was practical and objective in terms of getting at guys. That's a strong suit of his," Nylen said. "He's done it this season and hopefully he continues to do it."
From this point, BU tried their best to finish the comeback and turn it into a win, firing off seven more shots before the final whistle. None of them, however, made it past Northeastern senior goalkeeper Colby Hegarty in his season debut.
"We just wanted to have a really good performance tonight," Nylen said. "I think we were pretty close to a [good] performance. I think our guys competed for larger spells tonight."
The Terriers will only have a few days to recover before they head on the road on Saturday to face Bucknell University at 1 p.m. in the first of a trio of Patriot League contests to end the regular season.