Ruth E. Carter, renowned costume designer and Springfield, Massachusetts native, paid a visit to her home state on Oct. 15 to accept the Coolidge Award from Coolidge Corner Theatre. 
Established in 2004, the Coolidge Award honors a film artist whose body of work is "consistently original and challenging." Previous honorees include Julianne Moore in 2019, Michael Douglas in 2018 and Jane Fonda in 2016. 
Carter earned two Academy Awards in costume design for her work on Marvel's "Black Panther" and "Black Panther: Wakanda Forever." Her accolade for "Black Panther" made her the first Black winner of an Oscar in costume design.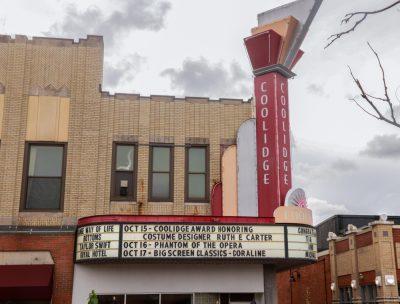 Carter also designed costumes for "Do the Right Thing," "Selma," "Marshall" and "Coming 2 America." Her work highlighting Afrofuturism in costume design has been showcased in several museums, including the Charles H. Wright Museum of African American History in Detroit, Michigan and the Museum of Pop Culture in Seattle, Washington.
"Her body of work collectively tells the story of Africans and African Americans across centuries, spanning a journey that could be traced from roots to the civil rights era," Coolidge Corner Theater CEO Katherine Tallman said.
When Carter became the first Black woman to earn two Oscars in any category, she realized that she was a role model. 
Today, Carter's work reflects her growing up in Springfield, a town in western Massachusetts. 
She derived her love for art from someone close to her: her older brother. She said she would sneak his supplies for herself and emulate the drawings from his sketchpad. 
"I just learned that way," she said. "Sometimes, you learn from actually going through their same process."
Carter said her mother, who worked as a psychologist, also helped fuel her passion, but in different ways.
"I feel like my mother was my first trainer in terms of costume design," Carter said. "My memories of my mom having this special kind of empathy for people, like knowing their stories … made me take pause and really see people." 
College became a time of exploration for Carter. She originally studied acting at Hampton University in Hampton, Virgina. When she wasn't offered a role in a production, her professor suggested that she try costumes instead, and she never looked back. 
"I was just on a pursuit to learn more about this thing, and every play that was done now at the theater, I was the costume designer on it, so I had time to exercise the craft," she said. 
Now, Carter's artistic process always begins with research in order to make her designs relevant and accurate. She then assembles a team of curators, producers and other staff to collaborate and bring these visions to life. 
"I wanted to know the hardship of the people. I wanted to know what kinds of choices they would make and how often they would change their clothes," Carter said. 
Carter's research process applies not only to historical films, but to films with intricate worlds like that of "Black Panther," which screened at the Coolidge prior to her Q&A on Sunday. 
"Every initial sense you get about a character is from costuming," said Rosalind Levine, a Vassar College student who attended the event. "I imagine she did a lot of design to make this feel like a completely different country, as opposed to all of our modern world."
In addition to screening films, Coolidge Corner Theater hosts a variety of education programs and community partnerships. Recognizing a local artist for their work is not only an honor for the theater, but for film lovers across Boston. 
Carter said that giving back to those who admire her is her legacy, and she hopes that the work she puts into her designs will help young people resonate with her work. 
"I didn't want to be the first Black costume designer," Carter said. "I just wanted to be a great costume designer."