Years ago, when Laura Young was working a closing shift at Mugar Memorial Library, what seemed like an average night took a spooky turn when she stumbled upon the remnants of an alleged seance.
Upon first look, the library is a standard place to study, filled with clothbound books and the caged study spots on the fourth, fifth and sixth floors.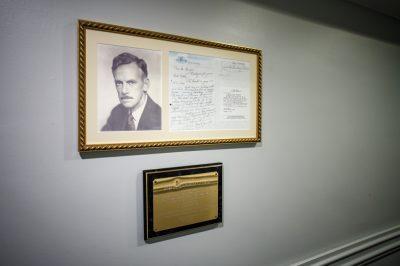 Young, a User Services assistant at Mugar, said that when closing in the library, she and the rest of the staff have felt a haunting presence since that night.
"I was clearing the fifth floor and suddenly turn the corner and smack in the middle of a desk was a large pentagram and two actual chicken feet sitting on the desk," Young said.
Was it the work of supernatural forces? Or a prank perpetrated by university pranksters? And if it was students, the question remains — where did they acquire those chicken feet?
"I don't know what other conclusion I could possibly come to except that they were doing satanic rituals," Young said.
Young isn't the only one working in Mugar who has felt the eerie presence of something looming over her.
Seana Davis, the library coordinator at Mugar User Services, has a ghost story of her own — one which explains the chilling reputation of the fourth floor.
The fourth floor of Mugar has doors that lead out to a balcony, which are locked so students can't access it. Davis believes that the doors used to open, making it an area where students used to meet up. Rumor has it a student either fell or jumped off, and she said she believes that is why the fourth floor has a certain cold and sinister feel to it.
"Lights will suddenly turn on or turn off … turn off if someone's in the row even if they're trying to keep them on, or turn on even though no one walks by," Davis said. "Sometimes, when the fourth floor is empty, people have reported being able to hear steps of the ceiling of the third floor."
Whether Davis' ghost story is true or not, it's not the only spooky occurrence haunting Boston University's campus.
From historic buildings to the autumn leaves coloring the sparse foliage, BU's campus is steeped in otherworldly charm.
Kilachand Hall, a dormitory now housing students of the honors college, has much more than a newly renovated study lounge going on for them over on their side of campus. Eugene O'Neill, a famous playwright who amassed a Nobel Prize for Literature, multiple Pulitzer Prizes and Tony Awards for his work, died in the very building that now houses the University's elite, formerly the Sheraton Hotel.
According to the New England Historical Society, O'Neill's last words were uttered on his deathbed, in what is now room 401: "I knew it. I knew it. Born in a hotel room and, goddammit, died in a hotel room."
Although the Sheraton Hotel has long been replaced, O'Neill doesn't seem to have gotten the memo. Many have said that the lights flicker or heard suspicious noises while riding the rickety elevator up or down.
Kilachand Hall isn't the only hotel-turned-dorm ghost story that is a staple in Boston University's haunting lore.
Myles Standish Hall, which used to be the Myles Standish Hotel, was the frequent stomping grounds of baseball legend Babe Ruth. Ruth used to stay specifically in room 818 of the hotel. It is said that his ghost remains haunting the dorms. Myles Standish Hall is also said to be haunted by the famous playwright Arthur Miller's uncle, who committed suicide on the ninth floor.
The dormitories in Warren Towers have a similar haunted aura about them.
Melinda Tran, a freshman in the College of Engineering, recalls seeing handprints on the Warren C Tower elevator doors. But that's not all. The bathrooms on the 16th floor of the tower also seemed to have some plumbing issues —flooding bathroom stalls being one of them. Tran said she saw one of the toilets in the bathroom flushing on its own, what seemed to be the work of the supernatural.
"I walked in and [the toilet] just kept flushing," Tran said. "It was sending a sign that I shouldn't be in there. It was throwing germs at me and it knows I'm a germaphobe, so it was targeted and I felt scared."
Boston University should become a tourist attraction for the supernatural, the peculiar and the unexpected. Could these ghost stories be a way to brush away the actual infrastructure issues and wiring problems that have been festering throughout campus? It all depends on perspective and how much you are willing to experience to uncover the chilling truth.