"Get on your feet!" The Boston University Marching Band performed their home field show, "Ladies of the '80s," at the BU Track and Tennis Center on Saturday, Oct. 21.
The band played four songs: Whitney Houston's "I Wanna Dance with Somebody (Who Loves Me)," Madonna's "Like a Prayer," Joan Jett and the Blackhearts' "I Love Rock 'N Roll" and Gloria Estefan's "Get on Your Feet." The show also featured a closing performance from BU's Pep Band.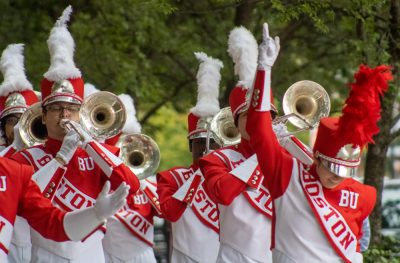 The BU Band, composed of the Marching Band and Pep Band, is most often associated with their performances at sporting events, so their home shows present a different side to the band.
"When you have a fun theme and you know the songs, and you really get to … let loose and have fun," Christine Fielding, a junior in the College of Arts and Sciences who is in her second year as a drum major. "That's the best."
The Marching Band consists of fewer than 100 members, but to those members, the band is much more than a mere extracurricular activity.
"I love the community that we built in band, and the fact that we performed an amazing product," Benjamin Thurtle, a freshman in the College of Fine Arts, said.
"Something I find really unique about the BU Band is that this is not a requirement for anybody's degree program. Everybody that's in the band is there because they love it and they really enjoy it," said Misa Womack, Athletic Bands teaching assistant. "I haven't seen that really anywhere else."
Thurtle estimated that he and his fellow band members spent about 100 hours preparing for "Ladies of the '80s."
"I can probably think of, like, five [members] that are actually music majors out of the roughly 70 of us," Fielding said. "So [for] a lot of us, this is completely out of our wheelhouse in terms of what we're majoring in, so there's that extra dedication."
The band, which is led by Director of Athletic Bands Aaron Goldberg, rehearses twice a week for two and a half hours, plus performances and additional rehearsals on the weekends, according to drum major Lina Dicovitsky.
"I would say it's a large time commitment, but one that's definitely worth it," said Dicovitsky, a junior in CAS.
Fielding noted that members must also dedicate time outside rehearsal to memorizing music and practicing their instruments. Even with these responsibilities, she said, "the time commitment is also what you make of it."
Womack, a first year Master's student studying trombone performance, pointed out that BU's Marching Band practices less often than her previous college band at Texas Tech University, yet yields the same result. She said their ability to perform quality work in such a short period of time is a testament to their work ethic.
Many students participate in more than one band. At the home show on Saturday, several members left the field with the Marching Band, only to return moments later to join the Pep Band.
In addition to their performances at sports games and home shows, the BU Marching Band participates in events for the New England Scholastic Band Association. They perform for high school marching bands, showing them that college marching band is for everyone, no matter their major.
"We do our best to make all the high schoolers feel like they're a million bucks," Dicovitsky said. "If they're passing by us when we're warming up, we're cheering for them."
Members of the BU Band often have packed schedules. Immediately following the end of "Ladies of the '80s," at 2 p.m., the Pep Band headed from the Track and Tennis Center to Walter Brown Arena to perform at a BU Women's Ice Hockey game at 3 p.m. The Marching Band will be performing "Ladies of the '80s" again this coming Saturday in Reading, Massachusetts.
"We all chose to be here, and we all have this common enjoyment for music and meeting other people and performing," Fielding said. "So that's what makes it really fun."