Stepping into downtown Salem is like walking into a Halloween classic: witches at every turn, Frankenstein walking down the street, brick walkways and architecture that is straight out of the 1800s. Tour guides are everywhere, explaining the history of the city. Visitors are chatting, laughing and screaming from the occasional jump scare.
The historic witchy vibes draw people in all year long, but with Halloween just around the corner, the city hits its busiest time of year. Tourists and vendors flock to Salem not only for the festivities but also for the community.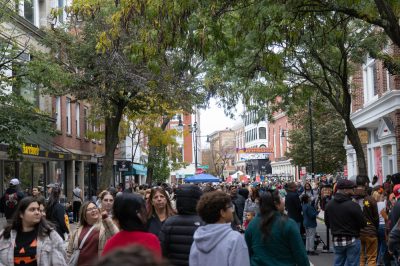 The city draws people in from various distances. Austyn and Samantha Hyder are Tennessee natives who have been making the trip to Salem every year for the past four years. They said the lore, history and architecture keep them coming back year after year as well as the excitement of being in a different city.
"Being from somewhere like Nashville, when we are able to come to places where you can get anywhere on foot is just super fun to us," Austyn said.
While walking around Salem on a weekend, you are met with bustling streets lined with various shops. The art fairs and flea markets host vendors selling vintage clothing, jewelry, art prints and more. Isaac Bidwell, the owner of Pickled Punks, has been selling his art at the Salem Flea Market for seven years. Bidwell is drawn to fairs like the Salem Flea Market because they are niche and fit his "a little creepy and a little cute" aesthetic.
Bidwell first discovered the craft festivals in Salem when proposing to his wife. 
"There's the old church that's around the side. That's where I proposed to her," Bidwell said. "Then I noticed this craft festival going on and the greedy capitalists in me went, 'Oh, wait a minute. I can start doing this.' So since then, I've been here every year." 
Another vendor, Allison Reynolds, traveled from Rhode Island to sell her accessories and creations in Salem for the first time.
"I have a friend who lives in Salem and she's been vending here for four or five years now," Reynolds said. "As I started to create more stuff, she was like, 'yeah, you should probably just apply and see what happens,' so I got accepted."
Being such a tourist hot spot means that Salem brings in a variety of customers for the vendors. Reynolds said one of the coolest things about vending somewhere like Salem was getting to meet people from all over the place and, in turn, seeing her work in a variety of places. 
"My jackets are now in Canada and some lady was moving to India and bought one of my jackets," Reynolds said. "It's a lot more touristy so I can get more people who are from farther away."
Salem profits off the Halloween season, but ultimately the city thrives off its history. Salem is infamously known for the witch trials of 1692, which ran for a little under a year. Around 150 people were jailed for witchcraft and 14 women and five men were hanged. 
Annemarie Duggan, a biology teacher at Shrewsbury High School, grew up near Salem and was told about the city as a kid. 
"We have such amazing national history here," Duggan said. "It's kind of embarrassing that we don't come out more often just to kind of see what is here and go into museums and things."
Duggan said she wanted to bring her family during the summer to explore more of the historical side of Salem, since "it's so crowded" during this season.
On top of tricks and treats, Salem cultivates a welcoming and all-inclusive community. Adrienne King-Lewis is the owner of King Lewis Engraving and Gifts. Originally based in Dallas, Texas, King-Lewis relocated her business to Salem in September 2022.
The business has kept the same idea of engraving gifts but since moving to Salem, King-Lewis has catered products to be more centered around Salem. She was drawn to move to Salem since she had never lived in a small city before and found the city and the scenery around it gorgeous.
People are drawn to Salem for the Halloween aesthetics and vibes and come back for the small city energy, welcoming community and variety of people. The city is truly a melting pot for tourists and locals alike.
"It's a gorgeous place. I love how the whole city really seems to be a celebration of otherness," King-Lewis said. "It's just really welcoming and fun."