Boston University Police Department announced Friday morning two more sexual assaults occurred Thursday evening, following the arrest of a suspect in connection to Tuesday's two other on-campus assault incidents.
These assaults mark the second pair of sexual assaults on campus this week.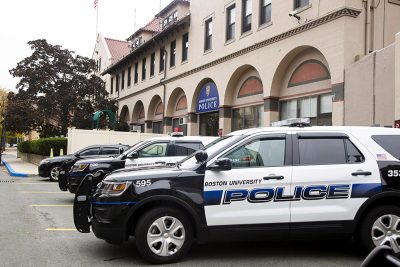 BUPD said Thursday's incidents are "unrelated" to Tuesday's, according to the BUPD alert sent out to students.
"It's not normal," BU spokesperson Colin Riley said about the four sexual assaults in one week. "That just shows how one individual in the first case, and another individual in this case can create an issue."
The first incident on Thursday occurred around 10 p.m. near 168 Bay State Rd, when a cyclist approached a student on the sidewalk and inappropriately touched her. The student called BUPD to report the incident but police were unable to locate the suspect.
The student described the suspect as a "white male riding on a dark colored bicycle wearing blue jeans and a dark cap or hooded sweatshirt," according to the email.
The second incident occurred about an hour later on the Charles River Esplanade near the Silber Footbridge when a person on a bicycle inappropriately touched the student. The student described the suspect as a "male riding on a black bicycle wearing a black hooded sweatshirt" at the time, according to the email.
BUPD and the Boston Police Department are investigating to see if Thursday's two incidents are related.
Riley said that immediately following Thursday's incident BUPD Chief of Police Rob Lowe met with his command staff, especially since it is Halloween weekend and BU wants to make students feel protected.
"[Lowe] is definitely planning to increase the uniformed and non-uniformed presence," Riley said. "Boston Police and the other area agencies are aware of this as well."
Boston Police, BUPD and Massachusetts State Police are patrolling these areas to provide "high visibility."
Riley said an investigation into Thursday's attacks is already "underway."
"This is such an aberration of this situation," Riley said when asked if BU will investigate measures that will prevent multiple assaults from occurring so close together. "Chief Lowe is working on [the investigation] this morning when he is meeting with his officers and his detectives, so it's taking place very quickly."
BUPD announced they arrested a suspect on Wednesday in connection with two alleged sexual assault incidents reported on campus on Tuesday.
Officials have not released the name of Tuesday's suspect.
"In each incident, the suspect inappropriately touched the reporting person," BUPD wrote in a statement. "Based on our preliminary investigation, it appeared the same suspect was involved in each case."
BUPD and Boston Police Department arrested the suspect overnight on an outstanding warrant, according to the statement. 
BUPD issued an alert to the BU community Tuesday night about the two incidents and asked members to provide any information they might have about the incidents. 
The first incident occurred Tuesday morning at 10:45 a.m. when an unknown person touched a student inappropriately while walking down the sidewalk in central campus near 617 Commonwealth Ave. and the second incident happened that evening at 7:10 p.m. on the BU bus, according to the alert. 
Both students said they did not know their assailant and the student in the second incident was able to provide officials with a description.
BUPD Chief of Police Rob Lowe said in an interview that they increased their "visibility" around the areas where the incidents occurred following the reports. 
Lowe said he would not comment more about the arrest because it would "jeopardize the integrity" of the ongoing investigation, but he commended the BU community for their help in the search. 
"[I] just really want to commend our community members, particularly the students that were willing to come forward to report these incidents to us [and] just really want to thank them for their courage," Lowe said.  "We encourage our community members, when they see something suspicious to say something and we're happy to see that they did that."
BUPD encourages the BU community to contact them if they have any information to share about the incidents at (617) 353-2121.
This article has been updated following Thursday's reported assaults.