For Boston University women's soccer, it was another crash to earth in a year of highs and lows.
How BU responds to this latest loss, though — a 2-1 defeat at the United States Military Academy in the final game of the regular season on Wednesday after a 4-0 win just four days before — will decide their 2023 season.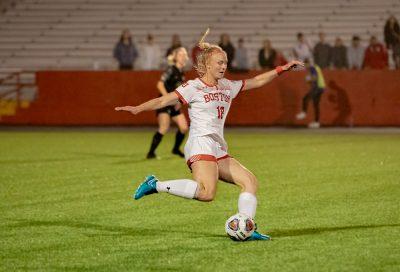 "I don't think it's really consistency," head coach Casey Brown said. "I think it's about being us and keeping to our game, playing our stuff."
In the final five games of the regular season, the Terriers (7-6-5, 4-3-2 Patriot League) have traded dominant performances for uninspiring showings. A 4-2 win against Lafayette College was followed by a 1-0 loss against College of the Holy Cross. A 3-3 draw at Bucknell University, then a 1-1 draw with Yale University the next time out. Now, a 4-0 rout of American University at home before a 2-1 loss away at Army (9-6-3, 6-2-1 PL). 
BU enters the PL Tournament as the fourth seed, where they will need to find three consecutive wins to avoid leaving the postseason without a title for the fourth-straight year.
"We all just work really hard to work together," senior defender Kayla Ross said. "It doesn't really matter who we're playing against, we're going to put our best foot forward."
After their first clean sheet in over a month against American, BU conceded twice in the first half against the Black Knights. A high, then a low. 
"Honestly, the first half wasn't our best performance," Brown said.
To open the scoring 31 minutes in, Black Knight sophomore midfielder Brigid Duffy found daylight out of a tight one-on-one with Ross and released a strike from outside the box that left BU junior goalkeeper Celia Braun no chance. 
"We could be a little tidier, and then maybe we'd avoid some of those goals," Ross said.
Four minutes later, a poor clearance from the BU defense led to another Army shot from outside the box, this time from senior forward Jasmine Talley, which deflected off a defender and found the top corner.
Despite conceding two first-half goals, Brown said it was not a step back for her defense.
"We continue to progress in defending," Brown said. "In the areas we wanted to improve in defending, we've improved in."
In the first half, BU wasn't much better going forward.
The Terriers put a season-high 14 shots on goal against American on Saturday, but in the first half against Army, they put just one on target. A high, then a low.
"We were on our heels a bit, and I don't think we were the aggressor," Brown said. "I don't think we did a good job transitioning into attack."
In the second half, though, the Terriers again looked like the dangerous attack that scored four goals over the weekend. BU took 11 shots, five them on goal, and found the back of the net in the 86th minute after a flurry of chances.
A move from sophomore midfielder Natalie Godoy drew two Army defenders forward, leaving space for sophomore forward Margy Porta to run in behind. A through-ball over the Army backline reached Porta wide open at the penalty spot, and her first-time strike was clipped over the goalie to put BU within one.
It was not enough. Army maintained possession in the remaining four minutes to see the game out and hand the Terriers their sixth loss of the season.
BU enters the PL Tournament as the fourth seed. They will host Lehigh University at Nickerson Field on Sunday at 1 p.m. in the quarterfinal. It will be the fourth-straight postseason appearance for the Terriers. Ross, a fifth-year senior, has been a part of each one.
"It's always just helpful to be on the front foot in any game and really try to impose our style on other teams," Ross said.
The results, to this point, have been inconsistent. 
The Terriers scored 28 goals in the regular season — their most since 2015 — but conceded 25. A high, then a low.
In 18 total games this season, BU never won three consecutive games — the run they'll now have to do to win the title.
Ross, going into her fourth and final crack at a Patriot League Championship, did not hide her assurance.
"I'm very confident," Ross said. "I think we've got a great group of girls, and there's no one else that I'd rather be heading into the tournament with."