Boston University Student Government sent out an email on Thursday stating the University will "no longer consider legacy status in admissions decisions," after meeting with BU administrators earlier this school year to discuss BU's policy on legacies.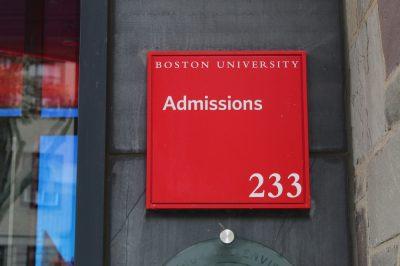 StuGov President Dhruv Kapadia, a senior in the College of Arts and Science, and Senate Chair Hanna Dworkin, a senior in CAS, met with Christine McGuire, vice president and associate provost for enrollment and student administration, about the impact of "legacy status" admissions decisions, following the Supreme Court's decision to overturn affirmative action in late June.
Kapadia said in an interview that not considering legacy admissions has been in practice at the admissions office for a while but shared concerns about the lack of communication about the policy.
"I'm glad that this has been a policy," Kapadia said. "But … it kind of points to the issue of why hasn't this necessarily been communicated with the community as a whole?"
BU spokesperson Colin Riley wrote in email that the University "never had a policy" with legacy admissions.
"This is not a shift in policy, as applicant legacy affiliation has not been considered in BU admissions for several years," Riley wrote. "Recently, BU student government was very interested in the topic, and we clarified our existing practice with them."
Kapadia said McGuire told him BU's last admitted class had 4% of admitted students with alumni relations.
"Those students are not getting in just because they have alumni relations," Kapadia said. "[It's] a demographic characteristic of those students. It's not like the primary reason why they're getting in."
BU lists "alumni/ae relations" as a considered factor in alumni relations, according to the most recent 2022-2023 BU common data set.
In the next common data sent in 2023-2024, BU will list "alumni/ae relations" as a "not considered" factor in admissions, Kapadia wrote in the email sent to students.
"The Common Data Set Initiative is a collaboration between higher education institutions and publishers to provide access to accurate and comparable data about the undergraduate experience," according to BU's Analytical Services & Institutional Research website.
BU will continue to ask potential students if they have alumni relation status in the application, but not use it in admissions decisions. An applicants' alumni relations status "informs the Admissions Office's modeling process for acceptances," according to Kapadia's email.
Kapadia said it's "a little disheartening" that he had to seek out this information through private meetings with administrators.
"Ultimately, I think this should be something that is more publicized and transparent, not only with the BU communities, but also with incoming applicants," he said. "It's awful to see in some universities where 30% to 20% of their student body are made up of legacy admits, but that's not the case at BU and I'm glad to see that."
This story will continue to be updated.