Having already clinched a spot in the Patriot League Tournament with last week's win at Bucknell University, the Boston University men's soccer team replaced Loyola University Maryland at the top of the league table with one game left in the regular season after defeating them 3-1 on Saturday.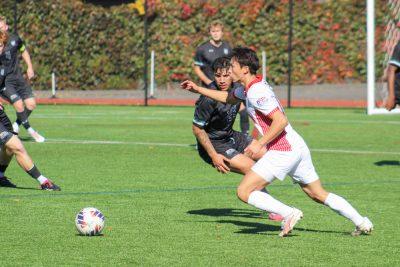 Before the afternoon kickoff, the Terriers (9-3-4, 6-1-1 Patriot League) recognized seven players in a Senior Day celebration, many of whom have played central roles in the team's recent success.
"It means everything," said head coach Kevin Nylen when asked about how it felt to win on Senior Day. "I'm super proud of the seven guys and their commitment."
With the triumph over the Greyhounds (6-2-8, 5-1-2 PL), the Terriers not only snapped Loyola's 13-game unbeaten streak by handing them their first conference loss of the season, but achieved something that had not been done since 1994: They finished the season undefeated at Nickerson Field.
"This place has done a lot for all of us seniors," said graduate student midfielder Colin Innes, who was one of the seven players honored before the game. "To get a big win, to put us into first [place] going into the last matchday, it means everything to us."
BU dominated possession throughout the first half, ultimately outshooting the Greyhounds 10-2 before the halftime whistle. Despite not finishing their chances, they constantly looked threatening in their opponents' half.
The Terriers couldn't find the same controlled aggression immediately after halftime, however. Loyola opened the frame with a near miss before going up 1-0 thanks to Brandon Meminger. The freshman defender fired off a shot from distance that took a massive deflection and thoroughly beat senior goalkeeper Francesco Montali's reach.
"We had a good 90 minutes, aside from the start of the second half," Nylen said. "[Loyola] pushed on [us] a little to try to limit space."
The Terriers started to get back into the game about 15 minutes later when senior midfielder and forward Eitan Rosen sent a promising strike forcefully into the crossbar, reasserting BU's presence despite still being behind a goal.
It was in the 73rd minute that the Terriers really got themselves out of the woods. Innes sent a corner kick in that found the head of senior defender Griffin Roach, who put the ball past Greyhound goalkeeper Dylan Van der Walt. It was Innes' seventh assist of the season, a mark that leads both his team and the Patriot League.
"We didn't waver at all," Innes said. "We kept keeping possession, kept pinning them in their own half, and it was just a matter of time before the goals started to come."
As it was Senior Day, Innes appropriately came through again for the Terriers just four minutes later. BU won a free kick well outside the 18-yard box, and the midfielder's stunning effort beat a leaping Van der Walt to put Terriers on top with less than 15 minutes to play in regular time.
BU continued their aggressive push as Rosen continued his recent late-game heroics by joining Roach and Innes on the scoresheet in the 86th minute. He received the ball just inside the penalty area, then froze the lone defender with deft footwork before spearing the ball into the bottom right corner. The goal doubled the BU lead and continued his three-game goalscoring streak.
"[Rosen's] always been an incredible finisher and an incredible player," Innes said. "He's at a position now where he's really, really feeling good, and that's a great place to be going into the tournament."
Shortly after falling down by two, the Greyhounds missed a golden opportunity to mount their own comeback. Junior defender Jordy Luchies stepped up to take a penalty kick just a minute after Rosen's goal, but failed to convert it, pushing his attempt just wide.
"[Loyola are] the best defense in-conference, so for our guys to continue to push for 90 minutes, that's what this group's about," Nylen said.
Saturday's win puts the Terriers in an ideal position to control their own destiny in terms of postseason seeding. They secured a first round bye, and potentially, home-field advantage throughout the Patriot League Championship.
"We gotta look [to] focus on Army, but this is one step closer," Nylen said when asked about playoff seeding. "We'll be ready."
To close out the regular season, the Terriers will travel to West Point, New York on Wednesday for a 6 p.m. clash against Army. If the Terriers walk away with any points, they will secure the Patriot League regular season title for the first time since 2014.