On Oct. 29, 2003, an 18-year-old kid from Akron stepped onto the hardwood floors of an NBA arena for the first time in his young career.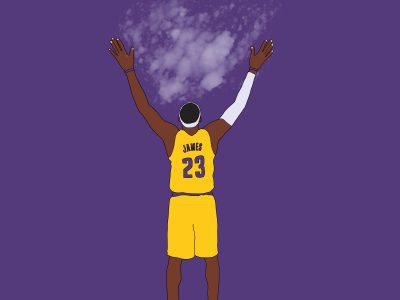 The kid, dubbed "The Chosen One" by Sports Illustrated, scored 25 points as he and his hometown Cleveland Cavaliers suffered their first defeat of the 2003-04 season. 
However, that night marked the beginning of one of the greatest careers in the history of sports.  
Twenty years and countless lives changed later, that kid, now in his 21st NBA season, continues to pour his heart into the game he fell in love with as a child. 
Along the way, he earned four championships, four MVPs, 19 All Star selections and holds the record for most points scored in the history of the league. 
That man is known by many names, but the one known in nearly every household across the globe is simply LeBron. 
LeBron James has revolutionized what it means to be an athlete in the 21st century. Like all the greats before him, LeBron is driven to win. However, his approach is more unique than his predecessors. 
LeBron has always been a pass-first player, despite his scoring prowess. Along with holding the scoring record, LeBron is fourth on the all-time assists leaderboard. He embodies the unselfish teammate. 
He takes meticulous care of his body and has been able to stay healthy for the majority of his career. 
Simply put, no athlete in any sport has been able to sustain this level of physical dominance for this long like LeBron has. 
Perhaps more important than his on-court accolades is the impact LeBron has had on the world.
LeBron became the first active NBA player to become a billionaire and has used his money to embark on philanthropic endeavors unlike any athlete before him. 
In 2018, LeBron founded the I Promise School in his hometown of Akron, Ohio. The school aims to create a curriculum that uplifts students who are at greater risk of "falling through the cracks," according to the school's mission statement.
LeBron has also used his platform to promote social justice on issues like racism, gun control, police brutality and voting.  
After struggling with poverty as a child, LeBron has continued to support underprivileged children around the country. His LeBron James Family Foundation has taken on many campaigns, from giving children school supplies and other necessary materials to housing students in their pursuit of education. 
His legacy extends well beyond his dominance on the basketball court. His name is a household name, even for families who aren't avid sports fans. LeBron isn't just an athlete, he's a cultural icon.
While the spotlight tends to uncover misdeeds in many celebrities' lives, LeBron has managed to keep his name clean. 
There are many things to criticize about LeBron — some say he is a drama queen on the court, constantly complaining about calls from refs. Some fans, especially those in Boston, have not-so-fond memories of LeBron dominating their hometown squad in key playoff matchups, giving them apt reason to despise his greatness.
Yet, his life off the court is spotless. 
LeBron is an ideal family man. He and his wife Savannah Brinson met in high school before they married in 2013. They have three children together — Bronny, Bryce and Zhuri — and are the picture-perfect sports family. 
LeBron isn't simply an athlete. At this point in his career, as a businessman and philanthropist, media mogul and activist, LeBron's name is one of celebrity rather than a mere athlete. 
Especially in Cleveland, where LeBron started his career and brought the city its first NBA championship, there are people who idolize LeBron like they do some of the most iconic figures in history. 
It's incredible what LeBron is doing on the court just three games into his 21st season. He is averaging 23 points, 10 rebounds and 7 assists. His scoring might not seem that impressive considering he averaged 30.3 points per game just two seasons ago, but because of his age, the Los Angeles Lakers coaching staff has him on a minutes restriction. 
Restrictions or not, he still dominates his opponents on the court. The debate between LeBron and Michael Jordan are often brought up and sometimes controversial arguments. Regardless, his legacy is cemented as one of the two greatest basketball players of all time. 
There is no denying his greatness. As he competes in his 21st season — a career old enough to buy a beer in an Akron bar — we should all take the time to appreciate the impact LeBron has on sports and our culture as a whole. 
This Editorial was written by Opinion Co-Editor Brett Abrams