When singer-songwriter Kevin Griffin was a freshman at Louisiana State University in 1988, he moved himself and his newly-founded alt-rock trio hundreds of miles north to be with his girlfriend at Boston University. Griffin's college band would become Better Than Ezra, a seminal '90s one hit wonder.
Influenced by R.E.M., Pixies and the Smiths, Better Than Ezra hail from New Orleans, Louisiana, citing a first rehearsal in their early college days. Most recognized for their smash hit "Good," the band never charted any higher than that initial buzz.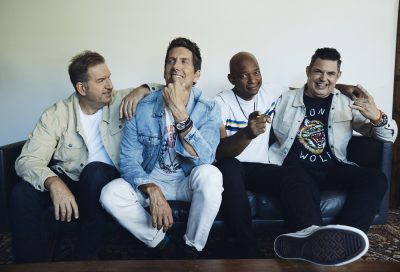 "It's paid off, just in happiness, but also in a career," Griffin said. "Let it be proof that you don't have to be defined by just one thing. There's all these different things you can do, and then you just never know what knocks the door open."
Still, Griffin said touring and playing shows this deep into their career "recharges your batteries," hence their massive level of activity despite their — albeit arguably — one-hit-wonder status.
Better Than Ezra found success in the mid-1990s, and thirty years in, they're embarking on the Return of the Legends of the Fall tour this fall, hitting The Cabot in Beverly, Massachusetts, on Nov. 3.
"It's vital to us to be out on the road," he said. "It keeps it going for us."
The band consists of Griffin as the frontman and lead guitarist, Tom Drummond on bass, Michael Jerome on drums and Jim Payne on piano, guitar and backing vocals.
In their decades-long career, Better Than Ezra achieved much of their notoriety from Griffin's songwriting, which is showcased on each of the nine Better Than Ezra records he's penned, as well as the numerous hits he's written for other artists.
But in 1995, when college radio had the potential to make or break an alternative band, Griffin was channeling his energy into that breakout song that would catapult his self-described "prototypical college band."
"I realized at some point, 'Hey, I'm a writer … I need to put myself out there,'" he said. "I'm a proponent for always stretching out creatively."
His catchy lyrics on "Good," the band's first lead single, launched a career defined heavily by crafty, genre-defying grunge-era contributions. Records like "How Does Your Garden Grow?" though a fan favorite, failed to hit the mainstream charts, forcing them to part ways with their record label.
After becoming independent, Better Than Ezra had to become an active touring band in order to complement their lofty aspirations in the studio — something Griffin always loved.
"The first shows we ever played were in Boston," Griffin said. "We were all valets on Newbury Street, working in bars, doing maybe what a lot of people who might be exposed to this article have done."
Griffin dubbed Boston "Normal Town" in a track of that name from sophomore release "Friction, Baby." He said, in the song, he tells a story about a girl living in Back Bay cursing John Silber, BU's president in 1996, when the song was released.
"[College towns are] a big part of who [we] are, and that's really where our roots are," he said. "We started off as a college band, being in college radio, and you never lose that."
Griffin said the adolescents he encounters allow his songwriting to stay fresh and in tune with the young angst that used to be only his.
"There's something about playing an area where students are, and there's that vibrancy and that excitement," he said. "It inspires you."
Gareth Dylan Smith, an assistant professor of music and music education at the College of Fine Arts, said he's seen firsthand how the old becomes trendy time and time again.
"The '70s came back, then the '80s came back. It's the '90s' turn," he said.
This constant recycling comes with the new electronic wave of music popular among young people today, he said.
"There's a vitality and a groove that you get with guitar, bass and drums," he said. "There's something that happens when those three get together and they make it work. [Better Than Ezra] has that."
Decades outside of their prime, Better Than Ezra has maintained momentum, thanks to frequent touring, new music and covers from stars like Taylor Swift. The Return of the Legends of the Fall Tour is currently supporting their new single, "Mystified," with a second to be released on Nov. 3.
"We're always playing shows. What we get off on [is] playing to people, getting that feedback," Griffin said.
Griffin sometimes wonders why he makes new music — "I'll never make as good music as already has been made," he said — but his motivation overrides any doubt. Even if he's labeled a '90s one-hit-wonder for the rest of his life, he won't shy away from writing more songs.
"I'm always discovering old artists and I'm like, 'Who is this?'" he said. "What's cool is, if music is good, if it's authentic, it just stands the test of time."