Inside the classically appointed ballroom on the ninth floor of the Questrom building, about two dozen young men and women from various states sat around the tables, wanting to make changes to the sexual assault problem on their campuses. They are the leaders of their colleges' sexual assault prevention programs who gathered in the early morning of last Saturday to learn and network at It's On Us's first New England regional summit since the pandemic.
Sol Sanchez, a senior in the College of Arts and Sciences and president of BU's It's On Us chapter, said she is glad to have the opportunity to reunite people from the New England area.
"We're just so excited to be joined along with the national chapter," Sanchez said. "I joined It's On Us because I knew I wanted to be a part of a preventative community as well as a supportive community for survivors."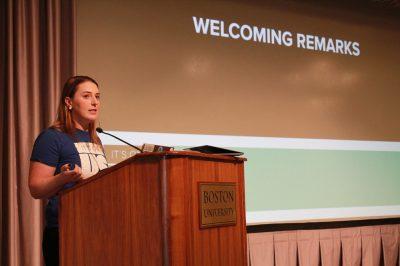 Last month, several emails from BU Alerts on sexual assaults that took place on campus filled students' inboxes.
Sindhu Rayapaneni, a senior in CAS and vice president of BU It's On Us, said she has seen improvement with the ways BU administration are addressing student concerns and safety on campus.
"In terms of the way they addressed it, especially the messages sent out, [it was] very well done, especially with the wording used and the resources they sent out," Rayapaneni said. "In past messages that we've seen, it was never like that."
Launched in 2014, It's On Us is a program following recommendations from a White House task force aiming to prevent sexual assault among young adults.
"What they found was that the vast majority of colleges were claiming that they were doing prevention education, but what they were actually doing was rape avoidance education," said It's On Us Executive Director Tracey Vitchers.
Vitchers said the team's mission is to bring in "not just young women, but young men into the conversation on campus sexual assault" and "help everyone see their role in preventing sexual assault."
Vitchers said she thought sexual assault on campus was unique to her school, Williams College, because of a national lack of awareness when she was in college.
"I do this work because I ultimately want to live in a world where no student graduates college having experienced sexual assault and the way that you get there is by investing in prevention education," Vitchers said.
Rayapaneni said she learned about BU chapter before she arrived at BU because of its "amazing social media presence" on Instagram.
"I am a survivor myself, but I think the reason I joined was more so I myself was confused about my own instance," Rayapaneni said. "I truly just didn't know how to feel."
Rayapaneni said when she came to campus, talking to the co-founders of the club gave her a safe space and a "sense of community."
"There's just a mutual respect that was always about knowing that you don't have to say it, but we know that we're always going to be there for you," Rayapaneni said.
Through the club, Rayapaneni said she has learned how to best support survivors.
"They showed me the way to use my voice in the most proactive way and also just to teach me in the right way to truly work with survivors and not retrigger them and truly be able to support a survivor rather than doing this work to do the work," Rayapaneni said.
Mia Donohue and Paige Yonts, a senior and junior respectively at St. John Fisher University, are executive board members in Fisher Student Respect Alliance, a club to promote sexual assault awareness along with serving underserved communities on their campus, which was officially recognized as a club last month.
"We want to just gain more knowledge [on] how to run [the club]," Donohue said.
When asked about their plan to eventually become part of It's On Us, Donohue said "it would be a dream to join."
Yonts said her personal connection to the issue encouraged her to get involved.
"Watching my family members go through things such as sexual assault and domestic violence, it's promoted me to then want to make sure that that doesn't happen on campus," Yonts said.
For mandatory training programs like the one that BU has, Vitchers described them as "risk management programs" instead of sexual assault prevention programs.
"Those online programs are actually ineffective in changing student attitudes and beliefs toward the issue of sexual assault," Vitchers said. "Most of the time, colleges require students to take it before they register for classes, and students want to click through them really quickly."
According to Vitchers, It's On Us found that only 45% of the young men surveyed stated they had received some form of prevention education in colleges when 100% of them should have according to federal law.
"Are schools just not providing it and therefore aren't compliant? Or are they receiving it, but they don't remember receiving it?" Vitchers said. "Both of which are a problem."