WASHINGTON — Students from universities and colleges across Boston joined tens of thousands of people from all around the country in a march on the nation's capital on Nov. 4, calling for a ceasefire in the Gaza Strip.
The protest comes a day after Israel's Prime Minister Benjamin Netanyahu has reportedly rejected President Joe Biden's recommendation of a "humanitarian pause" in the region to allow for international aid, according to the Associated Press.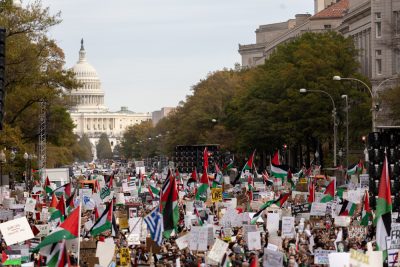 Over 750 people boarded buses in Boston late Friday night and headed south to Washington D.C., arriving early Saturday morning to join in the national protest that began at 2 p.m. at the Freedom Plaza near the White House. Once the bus tickets sold out, more people from Boston also drove themselves, bringing the total number of people that traveled from Boston closer to 1,000, according to Ruofei Shang, a junior at Boston University in the College of Arts and Sciences and the co-president of BU Students for Justice in Palestine.
Students from Boston University, Emerson College, Harvard University, Massachusetts Institute of Technology, Tufts University and Wellesley College along with the Boston chapter of the Party of Socialism and Liberation, Boston Palestine Youth Movement and the Boston South Asian Coalition traveled from Boston on Saturday.
The protest included speakers, musical performances and chants that ultimately led to a march from the Freedom Plaza to the gates of the White House, where demonstrators waved flags and chanted in support of Palestine into the evening.
The national march set out to be one of the largest pro-Palestine protests in U.S. history and drew media attention from a number of national outlets from around the world.
Kojo Acheampong, a sophomore at Harvard and a member of PSL and Harvard African and African American Resistance Organization, was in attendance on Saturday and said he hopes the protest sends a message that "people have Palestine's back."
"People want to see a free Palestine … the people back Palestine," Acheampong said. "We are seeing protests similar to this across the world … It's just a testament to the fact that people want to see a liberated Palestine."
Acheampong said the thousands of students who were in attendance is a testament to present-day political activism, comparing it to student movements in the 1960s.
"We're witnessing students standing up without fear," Acheampong said. "There's no reason to be afraid on our campuses, and there's every reason to come out and support Palestine."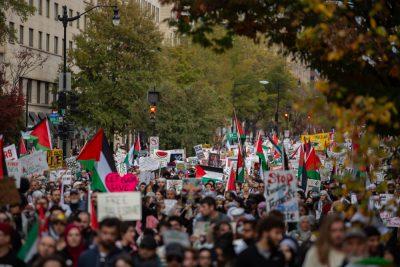 Adam Shamsi, a senior at BU in the College of Arts and Sciences, called the number of people at the protest "inspiring."
"Seeing so many people speaking so loudly and proudly about it is something that … has been very heartwarming," Shamsi said.
Shamsi said he hopes the protest on Saturday will send a message to Democratic lawmakers in Washington, as well as administration officials at BU.
"If there isn't a ceasefire, if there isn't an end to Israeli military aid, then the Democrats will lose their elections … so I hope that message comes through loud and clear." Shamsi said. "I hope that [BU sees] that there are a lot of students that care and stand in solidarity with students that are harmed and they start to take action and start protecting their students and advocating for their students in ways that might be uncomfortable to what the traditional stances have been."
Students from at least 30 colleges and universities across the country were among the nearly 250 endorser organizations for the march, including Alek M., a student from the Alamo Colleges in San Antonio, Texas, who said he along with twenty others flew to Washington to join the protest. 
"This is the seat of empire," Alek said. "We need to make sure that the voices of Palestinians are heard, that the demands of Palestinans are heard and [protesting] is the perfect way to do it, it's a perfect way to start and it's how every revolution starts."
As co-president of BU SJP, Shang was part of the organizing effort that helped fundraise thousands of dollars to pay for supplies, food, water and bus tickets to get students from BU to Washington. Shang said there were around 80 to 85 students from BU that made the trip either on the buses or by car. 
Shang said she feels like "the tide is really changing" when it comes to talking publicly about Palestine, saying that seeing so many people on Saturday gave her "a sense of comfort."
"Knowing so many people showed up and that there's so many people who think that we've got each other's back, it's just very beautiful and empowering," Shang said.