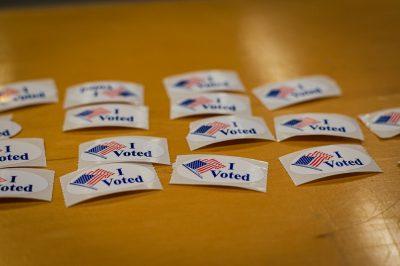 On Tuesday morning, polls opened for Boston's municipal elections that will determine the next district and at-large city councilors.
Councilors Gabriela Coletta, Ed Flynn and Brian Worrell in Districts 1, 2 and 4, respectively, are running unopposed.
District 3
In the preliminary municipal election in District 3 on Sept. 12, John Fitzgerald won 43% of the vote and Joel Richards won 19% of the vote. This seat is currently held by Frank Baker, who is not seeking reelection.
Fitzgerald worked in City Hall for 17 years and is currently the deputy director of real estate operations for the Boston Planning Development Agency. Fitzgerald vowed to create more affordable housing, support first responders, ensure universal child care and provide more funding for public schools, according to his website.
Richards is currently a Boston Public School teacher. Richards said he plans to create more community schools that are safe for students to attend, make housing more affordable in the city and is proposing a new "form of development" in which the city will purchase rundown and abandoned homes and renovate them for working class residents.
Additionally, Richards plans to work toward lowering rates of homelessness and addiction within the city.
"I really want to be that person that brings the fight to the city council where we start hiring hundreds of social workers a year," Richards said. "Help [people] get on their feet long before they're on the street."
District 5
In the preliminary election for District 5, Enrique Pepén won 40% of the vote and José Ruiz won 30% of the vote. This seat is currently held by Ricardo Arroyo, who received 18% of the vote in the preliminary election and is not running for reelection next year.
Pepén has worked for the City of Boston since he was a freshman in college, when he served as a constituent service representative. He later became co-chair of the Regional Transit Authority Advocates Coalition and executive director of the Boston Office of Neighborhood Services.
Pepén believes in expanding affordable housing opportunities for low-income communities, supporting public education, advocating for anti-racist learning and better mental health services, supporting local businesses, equitability in public safety, addressing the climate crisis and improving public transportation, according to his website.
"For me, this is close to home because I was raised in this district, I was born in this city," Pepen said. "I want to see it keep moving forward and I want to be part of the solution, not the problem." 
Ruiz worked as a police officer in Boston and was also director of the Blackstone Community Center. 
Ruiz is focused on improving affordable housing for first-time buyers and existing homeowners, increasing community policing and engagement, improving infrastructure and constituent services in the district and investing in school facilities and early education as well as vocational schooling. 
District 6
In District 6, Ben Weber won 42% of the vote and William King won 37% of the vote. This seat is currently held by Kendra Lara, who received 20% of the vote and will not be up for reelection next year. 
Weber spent over a decade working to provide fair pay to workers as a lawyer with Boston's Lichten & Liss-Riordan. He also worked as an assistant attorney general under Martha Coakley.
According to his website, Weber is focused on improving constituent services, increasing affordable housing and rent stabilization, focusing on climate action and clean energy, supporting public schools, improving community policing and crime prevention, investing in youth sports and supporting immigrants through the Boston Trust Act. 
King worked as a technology specialist for BPS and then information technology director for a conservation nonprofit. King stated on his website that he is committed to making housing affordable for  residents in his district, increasing access to education for all children, improving community policing, expanding mental health services, ensuring that public transportation is safe and accessible and prioritizing action on the climate crisis.
District 7
In District 7, Councilor Tania Fernandes Anderson and Althea Garrison are running against each other. In the preliminary election, Fernandes Anderson won 57% of the vote and Garrison won 20% of the vote. 
Fernandes Anderson is the current city councilor for District 7. As councilor, Fernandes Anderson has been committed to improving constituent services, increasing access to affordable housing, supporting the district's aging population, prioritizing COVID-19 recovery efforts, preventing violence and focusing on improving mental health and substance abuse services, according to the City of Boston. 
Garrison was elected to be city councilor-at-large in 2019. She was also a Massachusetts Representative in the 1990s. She is focused on affordable housing, improving services for senior citizens and veterans and enhancing public transportation services, according to the City of Boston.
District 8
In District 8, incumbent Sharon Durkan and candidate Montez Haywood are running against each other. 
Durkan is the current city councilor for District 8 and has worked in this position since the special municipal election in July 2023. She believes in providing mental health services to city workers, community engagement and building climate resilient neighborhoods that will be protected from stormwater and flooding.
Durkan said she believes it is important as a city councilor to be accessible to her constituents. 
"They want someone who's going to deal with some of the smallest issues that are facing them," Durkan said. "What we find is that those small issues aren't small when they're in your neighborhood, they're big to you and are important."
Haywood is currently a prosecutor who has focused on criminal violence in Boston. He is focused on fixing transportation infrastructure within the district, transitioning schools to having a "fully elected school board," supporting senior citizens, improving housing, raising wages, opposing a cut of the police budget and prioritizing action on climate change, according to his website.
District 9
In District 9, incumbent Liz Breadon and Jacob deBlecourt are running against each other. Breadon has been District 9 city councilor since 2019.
Breadon wrote in a statement that she is focused on supporting the culture of arts in Allston-Brighton, increasing fines for "poor trash containment" and prioritizing the need for "a neighborhood master plan." She also wrote she wishes to continue her work in affordable housing, especially for families, and her "advocacy for multimodal transportation and green infrastructure." 
deBlecourt works as an enrollment advisor and previously worked as director of Public Policy and Communications under councilor Julia Mejia. They are focused on addressing housing displacement and the cost of living in Allston-Brighton, reducing the rat population and supporting the artists that live in this district by enforcing anti-displacement policies.
At-Large
Micheal Flaherty, one of the current city councilors-at-large, will not be seeking reelection. Bridget Nee-Walsh and Henry Santana are running for the vacancy. 
Nee-Walsh, who worked as an ironworker for 17 years, believes in supporting public schools, addressing housing affordability and focusing on responsible development in areas that are impacted by climate change, according to her website. 
Santana worked as former councilor Kenzie Bok's director of operations and Mission Hill and Fenway liaison. He was also the inaugural director for Mayor Michelle Wu's Office of Civic Organizing.
On his website, Santana states that he is committed to providing affordable housing for Boston residents, prioritizing gun violence prevention, creating more youth enrichment programs, focusing on environmental justice and improving civic engagement.The Boston Municipal polls open at 7 a.m. and close at 8 p.m. and voters can find their nearest polling booth at the Boston city website.