Up and down play all year
Though the Boston University women's soccer team (7-7-6, 4-3-2 Patriot League) fell 3-1 to Bucknell University (12-3-5, 5-1-3 P L) in the Patriot League Semifinals, the Terriers had a notable 29th season. With a nearly even number of wins, losses and ties, 2023 saw exciting games if not unabashed success.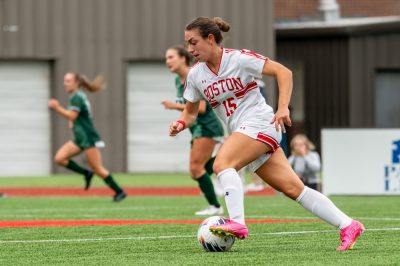 That being said, the Terriers started out the season lacking a scoring punch. In their first eight games, all against non-conference opponents, they scored one or zero goals in six of them. Their game against the University of Albany (4-10-2) was a five-goal thriller that BU won in the 83rd minute.
While PL play began with a loss to Loyola University Maryland (11-6, 6-3 PL), the Terriers managed to secure four in-conference victories before season's end.
These victories began with an intense showdown against Colgate University (5-13-2, 3-5-1 PL), a hard-fought battle that showcased the team's hunger for success. BU came through when it mattered and scored two goals in the final three minutes of regular time, a result that underscored the competitive nature of the 2023 Patriot League season.
"We were a really hungry group that wanted to come out and train everyday, wanted to get better," head coach Casey Brown said.
BU went on to finish as a mid-table team, defeating a quartet of PL sides that only managed a combined 12-22-2 record in their respective campaigns. That was enough, however, to earn them the fourth seed in the conference and a spot in the PL quarterfinals.
Of those four regular season PL wins, Brown referred to the back-and-forth victory against Navy (9-7-3, 3-6 PL) as a "big mentality tipper." Senior forward Abigail McNulty scored two goals that game, including a winner that came in the 85th minute.
"There was a real strong mentality and sense of resiliency, of 'we're never out of any game,'" Brown said. "We showed that we can come back, we showed we can score late, we showed we have a punch to us."
BU only lost two of their remaining eight games from that point — including a win over Lehigh University (7-5-4, 4-4-1 PL) in the PL Quarterfinals — but ultimately bowed out in the semifinals to Bucknell.
Though always aspiring for more, Brown reflected on the totality of the season in an optimistic light. 
"We feel really positive about our organization stylistically, the way we're playing and the brand we play," Brown said.
Terriers prepare for next season by acknowledging weaknesses 
Having now completed two seasons with the Terriers, Brown conveyed her and the team's mission to next achieve the top position in the Patriot League.
"Ultimately, we want to win championships in this program," Brown said. "We need to continue to grow and evolve to get there."
The same mindset that propelled the Terriers to success this season is expected to carry through the off-season and into the 2024 season. Clearly, the women's soccer team is anticipating big things from themselves next fall.
"There's a fire in this team and there's a fire in their bellies, and that's not going away because this season [is] over," Brown said. "There are some real positives [and] great takeaways, but ultimately, we want and feel we can get more."