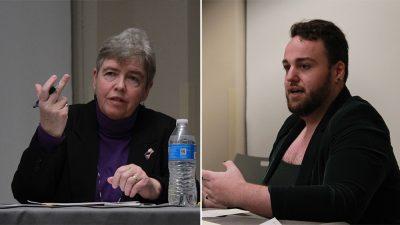 City council candidate Jacob deBlecourt and incumbent Liz Breadon debated in the Allston-Brighton city council debate last Thursday, outlining their plans for an inclusive and responsive city government if they win in the election on Nov. 7.
Topics such as the candidates' stance on Boston's housing crisis, mental health services in Allston-Brighton schools and the Boston Regional Intelligence Center were discussed as more than 200 Zoom participants and a live audience attended the debate. 
Breadon started the housing conversation by highlighting the inaccessibility that communities of color have toward building intergenerational wealth.
"Homeownership is one way to build generational wealth, and communities of color have been blocked out of accessing that in many ways because of redlining," Breadon said. "For those folks who want to have a home, we're trying to find ways to make it happen for them."
Breadon criticized the current housing landscape where investors from venture capitalist firms or private equity firms buy family homes to rent out to students, blocking the opportunity for working families to put down roots.
deBlecourt expressed support for housing solutions, aimed at easing the transition from renting to homeownership.
"If you want to own a home in Allston-Brighton, I want to make sure that we have all the resources for you," deBlecourt said. "We don't have a very large home owning population here in Allston-Brighton and those few that do are largely house poor, all their money is tied up in their home right now."
The candidates also expressed awareness of mental health challenges young people in the area experience, especially in light of the pandemic's effects. 
deBlecourt emphasized the value of mental health services in schools and argued in favor of bullying intervention programs and lower student-to-counselor ratios.
As part of a comprehensive strategy to help young people's mental health, Breadon cited the development of behavioral health services through a new building project on Warren Street and promoted sports and art programs in schools.
Jennifer Gordon, a local teacher and attendee of the debate, expressed support toward Breadon. 
"I'm guaranteed to vote for Liz," Gordon said."I think she has the experience we need and she's been around in the neighborhood for quite a while. That said, I did not expect to be quite so positively impressed by Jacob."
Audrey Seraphin, an arts administrator, voiced her support for deBlecourt's perspective. 
"I believe that we should have more young people on our city council because we are a young person neighborhood, we are a renter neighborhood," Seraphin said."We're a transplant neighborhood and I think they represent that best."
The funding of the Boston Regional Intelligence Center (BRIC) was a main point of contention during the debate. Breadon, who had voted previously against funding BRIC during a city council hearing in 2021, justified her recent position shift in the hearing three weeks ago, citing the growth in domestic terrorism and hate crimes as reasons for why she voted for extra funding.
deBlecourt persisted in criticizing BRIC, especially the gang database, claiming that it has a history of intimidating and harassing people and has not worked to reduce crime. 
"The council only held one hearing when it came to $3.4 million in funding to go to the BRIC," deBlecourt said. "I just don't feel like the council did a thorough enough job in investigating how this money is being used and how they're holding the police accountable." 
deBlecourt, in their closing remarks, talked about their goals if they were to win the election.
"I think that there is so much room for growth in this neighborhood," deBlecourt said. "I'm ready to create an Allston-Brighton with all of you that is more affordable, more inclusive, more welcoming, more accessible for people who are actually able to plant their roots."