In a season teeming with moments, never has Boston University men's soccer needed one more.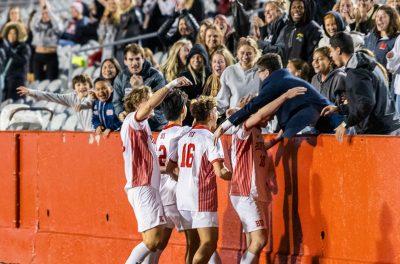 BU (11-3-4, 7-1-1 Patriot League) won their most games and scored their most goals in the regular season since 2015. Their striker, senior Eitan Rosen, was the Patriot League Offensive Player of the Year. Their starter in goal, senior Francesco Montali, and their anchor in defense, senior Griffin Roach, both repeated as the Goalkeeper and Defensive Player of the Year respectively. Head coach Kevin Nylen won Coach of the Year. To cap off the season, they won the conference's regular season championship for the first time in nine seasons.
Yet, through the first 80 minutes of the Patriot League semifinal Tuesday at Nickerson Field against Colgate University (8-10-2, 4-3-2 PL), the Terriers had nothing.
Then Colin Innes had his moment.
"That's what helped us be more successful, waiting for the right times to do it, and then choosing those moments," graduate student midfielder Innes said.
Receiving the ball on the edge of the box, Innes worked around an immediate defender and took his chance, placing a rocket from outside of the box into the bottom corner. With eight minutes left, a game that had lacked a clear chance suddenly had a goal, and a lifeless BU team was on its way.
Three minutes later, freshman midfielder Jason Zacarias beat multiple defenders in a tight area near the center circle, opening up the Colgate defense that had suffocated the Terriers all night. Zacarius waited for an overlapping Innes, who slotted his shot into the far corner to ensure BU's first Patriot League Championship game since 2014.
"There was pockets that we could definitely find," Zacarius said. "We weren't finding them as much in the first half, so I definitely told myself if I came on, I'd try to find those pockets."
After 80 minutes starved of offensive ideas against a stout low block, the memory of this time last year — when BU played Navy to a 0-0 draw at home in the semifinals before falling on penalties — felt unavoidable.
"I remember I was really upset, not at how I played, but the fact that I couldn't have done something to find a goal, and that kind of resonated with me," Innes said. "I told myself going into this game, if there's a chance to take, I have to take it."
And he did. BU took four shots, their lowest output of the season. For 80 minutes, the Terriers could not even get a sniff. The two teams ultimately combined to put just two shots on goal. 
Innes scored both of them.
"We know it's going to come," head coach Kevin Nylen said. "It's 90 minutes. We say this all the time. It's not 85, it's not 72, it's not 45, it's 90 minutes, and we've found goals late in games."
That is one of the most significant evolutions of this BU team. Last season, the Terriers drew seven times, and two of them were scoreless. Late goals were a hump they consistently could not get over, and after playing to a 110-minute stalemate against Navy in the semifinals, it was that hump that sent them home.
However, this past month, BU found late winners away at Bucknell University and at home against Loyola University Maryland, two critical games that helped clinch their regular season championship. On Tuesday, they found two late goals again.
"There's a year of experience, compared to a year ago at this time," Nylen said. "There's a year of maturity, a year of collective responsibility, a year of guys thinking about what transpired [last season]."
Now, in a season when the Terriers saw the light of the postseason on the horizon almost from the beginning, BU is back in the championship where they will face another hump they have not gotten over yet.
The Terriers will host Lafayette College at Nickerson Field on Saturday at 1 p.m. with the program's first PL Championship on the line. 
BU lost only once to a PL opponent this season — a 2-0 defeat to Lafayette.
For a team that has had its sights on this game since at least September — Innes said "it's a ring or nothing for us," after the Terriers' 3-0 win over Holy Cross on September 27 — another moment, the biggest moment, awaits.
"This is a goal we've had for a long time," Innes said. "But at the end of the day, we got to stay the course, and we got to just keep doing what we do."