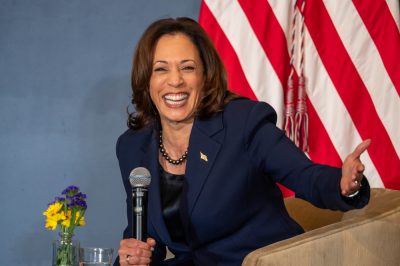 Vice President Kamala Harris was in Boston on Thursday to meet with members of the registered apprenticeship program, a government-run career pathways program, ahead of next week's national apprenticeship week, but was met by hundreds of protesters later in the afternoon.
Harris spoke in a moderated conversation to an audience of union workers at Pipefitters Local 537 in Dorchester Thursday afternoon, where she highlighted the importance of collective bargaining for union workers and ensuring they feel supported and respected in their workplaces. 
"This is the moment in time for us to really understand … the fight that labor has always been engaged in for fairness, for workers rights," Harris said.
Harris mentioned a number of ongoing projects, including one funded by the Biden administration's $15 billion investment for "removing every lead pipe in America." She called lead pipes a "public health issue," and added the necessity of "building up the workforce" to carry out the project of the removal. 
Mary Vogel, executive director of a nonprofit organization called Building Pathways, attended the discussion and wanted Harris to discuss diversity.
"The building trades have been historically dominated by white males, and our organization … [is] really focused on diversifying the industry and bringing more equity so that everybody, no matter who you are, is welcome," Vogel said.
Harris said she always asks herself  "who is not in the room?" From there, she said she strategizes how to bring those various groups in.
"To the younger leaders here … always know you're not alone," Harris said. "[Sometimes] you may be the only one who's had your life experience or look like you, and it's really important when you're in those rooms to remember this room, and hold that to know that when you walk in that room, we're all there with you."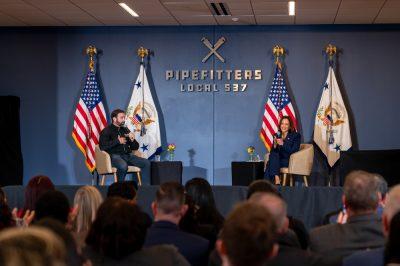 Harris said an important part of trade unions is not only the security they provide to workers but also the community they create. Vogel echoed this point by acknowledging the community-wide impact of Building Pathways. 
"It changes lives, not only of the individual but of their families [and] of their communities because they have the economic wherewithal to invest in their communities," Vogel said.
Josiah Gomes, a union worker for Pipefitters 537, participated in the program, which he described as one of the "best programs that [he] did in [his] life."
"I was able to buy a house, bought two cars [and] move my family out of a not-so-good area to a better area," Gomes said. "It gave me the opportunity to grow and further myself positively, financially and mentally." 
Although Gomes said he did not know whether he thinks his organization has been supported by the Biden-Harris administration, he said he would like to see more awareness spread about the trade field and apprenticeship programs. 
"I would like to see them recruit more inner city kids like myself from the Boston area and give them the opportunity to see how it is to own something of yourself and to grow and be able to sustain it," Gomes said. 
Chanté Carney, a member of Labor's Local 223, said work in the union has been "highly consistent," a factor she was pleasantly surprised about since she was told to save her money in case work slowed down. She said she believes this is a result of the funding and projects that are in place for worker's unions. 
"I feel like [Harris] definitely genuinely cares and she is a genuine supporter," Carney said. "To know she's from the top of the chain and she cares about what actually happens to middle-class workers is really good."  
Later in the afternoon, Harris attended a campaign reception at the Ritz Carlton Hotel in Boston, where she was met by hundreds of protestors calling on her to demand a ceasefire in the Gaza Strip.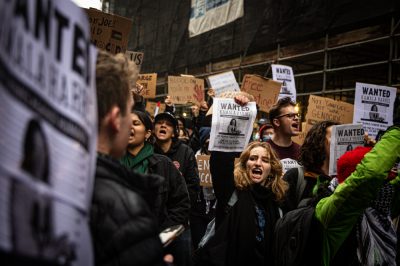 Police and U.S. Secret Service agents were present as protesters stood outside the hotel behind metal barricades holding signs and chanting, which led to the arrest of two men around 12:30 p.m. for trespassing and resisting arrest,  according to the Boston Globe. 
Ximena Hasbach is an alum of Massachusetts Institute of Technology and an organizer with the Party for Liberation and Socialism who spoke during the protest downtown. She said she hopes Harris hears the demands of the protesters.
"Vice President Kamala Harris is visiting the Ritz Carlton Hotel, speaking with wealthy donors, fundraising for her campaign, instead of doing her job, which is listening to her constituents," Hasbach said. "It is unequivocal the support that the Palestinian people have from the American people."
Andrew Burke-Stevenson contributed to the reporting of this article.