The following reports were taken from the Boston University Police Department's crime logs from Oct. 30 – Nov. 11.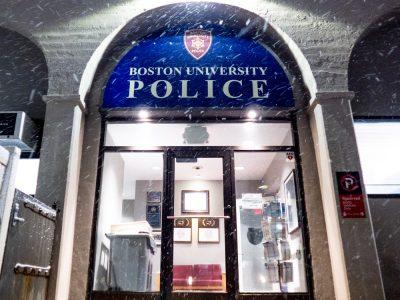 Suspicious Package at College of Arts and Sciences, 725 Commonwealth Ave.
At 9:32 a.m. on Oct. 30, a 411 tip reported a suspicious backpack in the basement stairwell in the CAS building to the east of Einstein Bros. Bagels.
Destruction of $1,200 of Property at 39 Buswell St.
At 11:08 a.m. on Oct. 30, a person stated that several items were missing from their apartment after their roommate had moved out.
Other Service Request Type at 1019 Commonwealth Ave.
At 9:13 a.m. on Nov. 1, a party wanted to speak to police regarding posters that were taken down on Oct. 26.
Assault at Babcock Street and Commonwealth Avenue
At 6:10 p.m. on Nov. 1, a caller reported that a group that had walked by them attempted to strike them.
Parking Complaints at 278 Babcock St.
At 9:53 p.m. on Nov. 3, multiple calls came in regarding people unable to leave a garage. They stated that the parking attendant was preventing them from leaving. Parking services were notified.
Other Service Request Type at Bay State Road and Silber Way
At 6:01 a.m. on Nov. 4, officers assisted two intoxicated individuals with finding their way home to avoid them driving. They were brought to the station to sober up while they waited for an Uber. They were successfully sent home in the Uber.
Suspicious Person at 1039 Commonwealth Ave.
At 12:22 a.m. on Nov. 5, a caller reported that as he was walking home, a silver jeep pulled up alongside him and someone leaned out the window and tried to grab him. They did not speak to him or attempt to chase after him. The caller was asked if he would like to speak to an officer, but did not want to file a report at that time.
Hit Pedestrian at Commonwealth Avenue and Massachusetts Avenue
At 4:36 p.m. on Nov. 10, a caller was struck by a vehicle, but did not want medical attention at the scene. Boston Police Department had the call and responded.