By Sydney Topf and Lindsay Shachnow
The Suffolk County District Attorney's office is investigating the recent vandalism at Boston University's Florence & Chafetz Hillel House as a potential hate crime, said Chief Communications Director Jim Borghesani of the DA's office.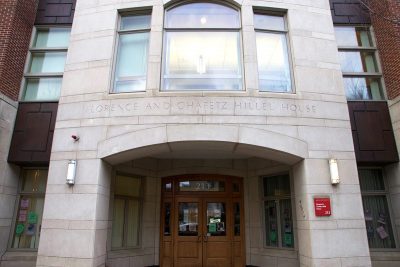 Hillel workers reported at 4:49 p.m. on Nov. 7 that a window was tagged with "Free Palestine," according to the crime report and BUPD.
BUPD detectives arrived on scene to speak with the workers who reported the vandalism and immediately initiated an investigation, Chief of BUPD Rob Lowe said in an interview.
"Boston University Police Department will not tolerate violence or property damage on campus," Lowe said. "We're going to utilize all of the resources that are available to us to identify individuals that engage in this activity, and hold them accountable."
BUPD is working with the Suffolk County DA's Office to investigate the vandalism. The DA's office became involved in the investigation after BUPD contacted the office about the incident.
BU Hillel sent an email out to the community following the vandalism on Nov. 9 expressing to students that Hillel is here for them and reminding them of the Fighting Antisemitism and Supporting Israel in Crisis Plan which aims to protect BU community members and document antisemitism on campus.
"This horrific act is being investigated as a religious hate crime," BU Hillel's Managing Director Ethan Sobel wrote in an email statement to students. "We are grateful for the swift response from BU, BU Police, and the Suffolk County District Attorney."
Lowe said BUPD has not seen an increase in reported antisemetic or islamophobic crimes on campus since the war in Gaza began.
"I just want to highlight that we're not going to tolerate violence or threats directed at any individuals, or any acts that could constitute hate crimes," Lowe said.
Lowe would not comment about how BUPD deploys their resources when asked if they will increase security around Hillel following the incident, but said they will continue to work to make students feel safe on campus.
"We have a visible presence in the community and we're going to continue to do that, to make sure that all of our community members feel safe," Lowe said.
Borghesani said there has been a rise in hate crimes "across the board." In response, the office has expanded their civil rights unit.
"It gives us the ability to prosecute these crimes in a more efficient way," he said.
The Dean of Students Office will become involved in the investigation if any student was involved in the vandalism, BU spokesperson Colin Riley said.
"We do hold students accountable for any violations of the code of student responsibilities, if that's the case," Riley said. "We're disappointed that an individual took that action … [and] certainly doesn't represent what we think [is] our students."
BU Students for Israel released a statement on Instagram calling for BU administrators to "make a statement condemning this act of violence and all acts of antisemitism that manifest at Boston University."
"This is not a matter of free speech or a debate about what is or isn't antisemitic," they wrote. "Jewish students do not feel safe on campus, and that should not be the reality."