We're just over the halfway mark of this year's NFL season, and we've already seen unprecedented offensive production. C.J. Stroud set the record for the most single-game passing yards by a rookie quarterback with 470 in Week 9, and the Miami Dolphins fell two points shy of the record for the most points scored in a game after hanging 70 on the Denver Broncos.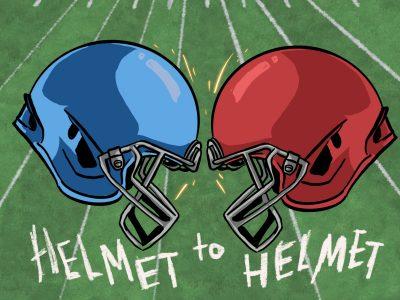 The offensive explosion taking the league by storm might also be marking a historic shift for a position that once was considered a premium: running backs. More specifically, we have seen many teams changing away from having one star back to a running back-by-committee style, where carries are shared by two or even three backs. So, is this year just an outlier, or does it represent a larger trend?
Let's hop in a time machine and go back to July of this past summer, when the headlines began popping up. Austin Ekeler, who is also the NFL Player Association's vice president, led a Zoom meeting with several of his fellow running backs in attendance to discuss the position's decreasing market value. Attendees included superstars Nick Chubb, Derrick Henry, Christian McCaffrey and Saquon Barkley, who at the time was threatening to sit out training camp over a contract dispute.
Fast forward to today, and the truth is that running backs are becoming expendable. If we look at the Kansas City Chiefs, for example, they didn't spend big on running backs for either of their last two Super Bowl-winning squads. Nowadays, teams spend most of their salary finding a franchise quarterback, then look to spend the rest on premium positions like wide receiver, edge rusher and middle linebacker.
I think this makes a lot of sense. Why would a team give their star running back a three-year, $36 million deal — like the Cleveland Browns did for Chubb — when they can get the same production out of three running backs making under $3 million each like the Baltimore Ravens do? That extra money can go toward attracting free agents in positions of need or toward paying their franchise quarterbacks, whose price tags have reached an all-time high.
Statistically, most teams that use multiple running backs regularly have more production than teams with one main back. Nine out of the NFL's top-10 rushing attacks this season feature two or more backs with an average snap count of 30% or higher. This includes teams like the Ravens, Dolphins, Philadelphia Eagles and Detroit Lions, who have some of the league's best offenses.
Even in the pass-happy environment of today's NFL, presenting the threat of a strong ground game is important. Play-action passes are some of the most efficient options for offenses, and they're set up by running the ball. When a quarterback feigns handing the ball off, linebackers and safeties will shift their weight toward the line of scrimmage, even if just for a second. The NFL moves so fast, however, that just one second can be deadly.
Take the Dolphins, for example. They average 147.9 yards per game on the ground, tied for second highest in the league. Those yards come thanks in large part to running backs Raheem Mostert and De'Von Achane, who have played in 58% and 40% of Miami's offensive snaps, respectively. Their quarterback, Tua Tagovailoa, is second to only Minnesota Vikings quarterback Kirk Cousins in play-action attempts on the season.
It's clear that there are too many positives in using a running back-by-committee offense for teams to stick with the ways of old. It's a system that has been tested and been fruitful for years, and is arguably as efficient as having a bellcow running back.
Financially, it just makes too much sense to not spend money on one star running back, especially if the team has needs in more important positions. Unfortunately for those star backs and their bank accounts, the running back-by-committee isn't going anywhere anytime soon.