Boston University's Student Government met Monday to discuss cabinet and committee updates and confirm a new Environmental Affairs Director.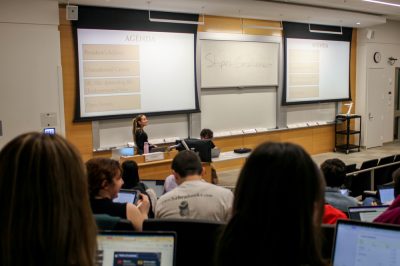 The meeting began with the announcement that Student Body President Dhruv Kapadia, a senior in the College of Arts and Sciences, won his election for a seat on the Hopewell Valley Regional School District Board of Education. So far, Kapadia is leading by a significant margin, and the results will be certified next week. 
In response to criticisms that student organizations lack storage space on campus, Kapadia announced that he is collaborating with BU to add storage units in the basement of 10 Buick St. 
"[Student organizations] just need storage space, and there's not a lot of storage space on campus," Kapadia said. "What I've been working on today has been to open up the old student government office."
In addition to the president's address, each of the individual senate committees presented updates on their projects.
The Expect More Senate Committee has been researching other student governments across the country to see what strategies BU could replicate. 
Mason Carlucci, a sophomore in the Faculty of Computing and Data Sciences, and Senthil Meyyappan, a junior in CAS, represented the Expect More Senate Committee and presented their findings to the general senate members.
The committee found that other schools have special committees that BU's senate lacks, citing The Ohio State University's Justice and Equity Committee and the University of Connecticut's Period Box, which provides free menstrual products to students.
"UConn has a lot to offer in how they have many, many committees and many, many initiatives to make everybody feel represented," Carlucci said. "I think their size and scale is somewhat similar to BU as well so that's something to take a look at."
The Mental Health Committee announced their first Coffee and Conversation that will discuss borderline personality disorder and bipolar disorder. The event will be held in the student government office on Nov. 17 at 4 p.m. All are encouraged to attend, not just those affected by those issues.
The Finance Committee updated the senate on their search for student representatives for community service fee negotiations. Vijay Fisch, a sophomore in CDS, explained the purpose of the negotiations.
"There's a $2.4 million community service fee and pretty much that pays for college government, pays for student government, pays for club sports, pays for clubs, everything that's student-run," Fisch said. "We lead the negotiations."
Fisch said the committee has found representatives for almost all student organizations that require funding, with the exception of some BU residence halls. 
The senate's I.M.P.A.C.T. Committee announced that they would discontinue issuing Starbucks gift cards in light of the "current world context." The committee is currently deciding which company will issue the new gift cards. 
Madeleine Ariola, a junior in CAS, said changes were made this year to the Engagement Cabinet's student organization brunch on Nov. 11 included shifting from "a town hall approach" to a focus on "small group discussions."
Alex Brumfield, a senior in CAS and representative for the Social Advocacy Department, announced that 616 students have responded to the survey about BU's recently updated meal plans so far. The results of this survey will be given to BU's administration. 
According to Brumfield, many BU students have been unhappy with the change in meal plans.
"It's not exactly sustainable or equitable for low-income students," Brumfield said
Melanie Lin, a sophomore in CAS, was confirmed by a vote as the Senate's 2023-24 Environmental Affairs Director. 
After being confirmed, Lin said the Environmental Affairs Committee held a clothing swap on Nov. 11 that was a "huge success." Another clothing swap is planned for Jan. 28. 
BU's student government senate will not be meeting next Monday because of Thanksgiving break, but will return the following week for more cabinet and committee updates.