The third Republican primary debate was supposed to be a strict, answer-when-asked affair. Candidates were each asked a question and given one minute and 30 seconds to respond, with nearly no rebuttals or interjections from their opponents permitted.
Nearly. Entrepreneur Vivek Ramaswamy made civility a difficulty, though it's proven difficult enough for this group of candidates to remain civil.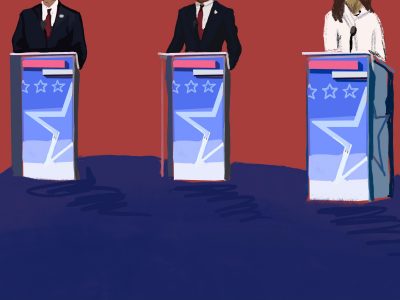 In his very first statement, Ramaswamy went on the attack. He expressed frustration with the Republican Party's many losses in the 2023 elections, describing it as a "party of losers" and calling for the resignation of Republican National Committee Chair Ronna McDaniel.
Continuing this tirade, Ramaswamy went after one of the debate moderators, Kristen Welker, attempting to turn the tables on her and ask her to answer for pushing the "Trump-Russia collusion hoax" on NBC.
"Was that real or was that Hillary Clinton made-up disinformation? Answer the question. Go," Ramaswamy said.
He added that he thought the debate should instead be moderated by former Fox News host Tucker Carlson, conservative podcast host Joe Rogan and X owner Elon Musk.
This was all after Ramaswamy was simply asked why he would be a better Republican nominee than former President Donald Trump. Did he not have anything to say for himself as a leader, causing him to resort to bashing McDaniel and Welker?
Soon after, he attacked his fellow candidates, collectively referring to former United Nations ambassador Nikki Haley and Florida Governor Ron DeSantis, who is facing speculation about wearing lifts in his boots, as "Dick Cheney in three-inch heels." 
Prior to the debate, Ramaswamy promised reporters that his strategy was to be "unhinged." But why? 
I believe Ramaswamy is attempting to compensate for his own hypocrisy with ridiculous one-liners and blatant disrespect for his colleagues. However, all he's doing is making a fool of himself and shedding more light on his lack of credibility as a leader.
This is especially true in the case of Ramaswamy and TikTok. Ramaswamy has expressed his plan to ban the Chinese-owned app should he become president, saying that China is pushing TikTok as "digital fentanyl" to young Americans.
However, Ramaswamy was also the first Republican candidate to join the platform, crediting his change of heart to problematic content creator Jake Paul.
"Yes, kids under age 16 shouldn't be using it, but the fact is that many young voters are & we're not going to change this country without winning," Ramaswamy wrote on X. 
Essentially, Ramaswamy plans on milking TikTok for votes only to then tank his supporters' platform. If that doesn't scream "hypocrite," I don't know what does.
When confronted with this hypocrisy at the GOP debate, Ramaswamy refused to answer for himself and instead turned to Haley — rather, Haley's daughter, a TikTok user. He questioned Haley for looking out for families when she hadn't "taken care" of her own.
"Leave my daughter out of your voice," Haley oh-so-eloquently responded, adding, "You're just scum."
This was a low blow, even for Ramaswamy. It should be an unspoken rule never to bring a candidate's family into a debate, especially their children. Ramaswamy resorting to using Haley's daughter as a distraction proves his obvious inability to defend himself. 
Ramaswamy later called out Haley for calling China the United States' "great friend." While this is something Haley said in 2017, and she should take accountability for that statement, Ramaswamy needs to practice what he preaches and take accountability as well.
Ramaswamy needs to own up to his contradictions. If he isn't going to do that — which seems highly likely — then he needs to stop dishing out to his opponents what he is unable to take himself.
At this point, I don't see Ramaswamy pulling through in the primaries unless he swiftly cleans up his act. He is in fourth place in the polls, following Trump, DeSantis and Haley, and I don't see his performance at the last debate helping his numbers. 
Respect and accountability should win elections, not mockery and hypocrisy. There's no need for a Marjorie Taylor Greene in men's dress shoes as the Republican nominee, let alone as president.