By Keiko Casserly and Crystal Yormick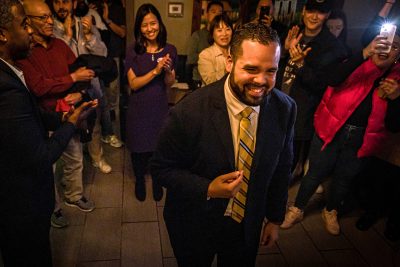 Voters across Boston elected candidates to fill all 13 seats on City Council on Nov. 7, many of whom were reelected to their current positions. However, four new members will soon be sworn into office as the newly elected representatives from districts 3, 5, 6 and an at-large seat.
Ben Weber, newly-elected district 6 representative, found appeal among endorsers through his past experience in the legal field as a workers' rights attorney. Since winning the election, he has been listening to the groups reaching out to him and reaffirming his support for the groups he supports.  
"Because of his career, we expect him to carry on the same kind of principled stance when it comes to issues that affect working people," said John Murphy, secretary-treasurer of Teamsters Local 122, a local chapter of a workers union.
Weber, who lists education as one of his key policy ideas on his website, had his own issues with Boston Public Schools when the Mission Hill School, which his two children attended, was left without a principal and closed down for a year. 
"That whole process made me want to use the skills that I've gained fighting for workers' rights to just fight for the rights of families all across Boston to have a world class education," Weber said. 
He said addressing constituents' concerns in a "timely and effective manner" along with establishing good relationships with council members will be his first priority upon taking office.  
Tom McKeever, president of Local SEIU 888, a union that endorsed Weber's campaign, said the endorsement of Weber was a "no brainer" due to his relationship with labor attorneys and union background in addition to Weber's preparedness when meeting with Local SEIU 888.
"He listened first and then processed the information, and then we had a fruitful discussion," McKeever said.  
District 5's new City Council representative, Enrique Pepén, was elected to fill the seat being vacated by Richard Arroyo. Pepén defeated Jose Ruiz by a slim margin, receiving 52.75% of the vote, with only 647 votes separating the two candidates.
Marlishia Aho, the regional communications manager for 1199 SEIU, a healthcare workers union that endorsed both Pepén and Weber, said the union's endorsement of the candidates came by a member-driven endorsement process in which union members engaged with candidates to help decide who they will endorse. 
"We wanted to make sure that we were electing healthcare champions that will stand with us as workers as well as residents of the city," Aho said.
Aho pointed to Weber's experience as a workers' rights attorney as well as Weber and Pepén's support throughout the campaign of healthcare issues. 
In district 3, John FitzGerald will be taking the seat of councilor Frank Baker after being elected with over 58% of the vote. FitzGerald has worked with the City of Boston for the past 17 years, holding positions as the director of finance for the Office of Economic Development and most recently as the deputy director of real estate operations at the Boston Planning and Development Agency. 
Baker described his successor as "someone that can really get in the middle of situations that are happening" to facilitate compromise.
Baker also stressed the importance of maintaining relationships in politics and said he thinks FitzGerald's nearly two decades of work in Boston gives him an edge. 
"Coming from that City background and especially coming from the planning department, I think he's going to have those relationships … that's really going to serve him well," Baker said. 
The fourth of the new members of City Council is Henry Santana, who was elected as one of four at-large candidates and will replace the seat current City Council at-large member and former City Council president Michael Flaherty will leave upon his departure from the council after not seeking re-election.
Originally from the Dominican Republic, Santana has spent most of his life in Boston, growing up in Boston Housing Authority public housing and attending BPS throughout his youth. He described himself as a "proud product" of his obstacles, emphasizing the unique perspective it has given him when navigating this system that could give so many opportunities to the individuals it so often hinders.
Santana stressed the significance is in victory, hoping to break down the narrative that one needs to come from a background of politics or money in order to win campaign races, of which he said he comes from neither.
Even amid his campaign, Santana said he was working overnight shifts to support himself, while simultaneously trying to dedicate as much of his time to the campaign space as he could.
"This is the story of many people across the city, people who [take on] two, three jobs just to make ends meet," Santana said.
These experiences have motivated him to advocate for career opportunities, especially for the younger generations, "so that way, one job could be enough."
Santana said it is becoming increasingly difficult to attain the "American dream, the Boston dream," but said as someone living through the rising costs of living in the city himself, he hopes to be the relatable voice for residents on the council.
"I'm living through it, but I also want to be able to be someone who's fighting inside, on behalf of the residents of Boston," he said.