Around 60 demonstrators held a protest this morning at the Boston University Bridge, blocking traffic and calling for a ceasefire in the Gaza Strip.
Protesters stood in the middle of the BU bridge from about 8:00 a.m. to just after 10:30 a.m., according to BU alerts sent out to the BU community. BUPD, Boston Police and Massachusetts State Police were all on scene throughout the demonstration.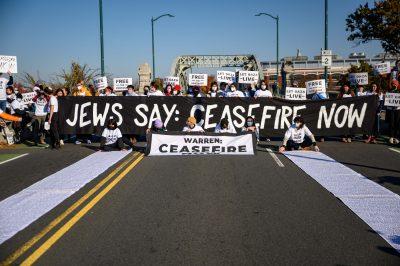 The demonstration, led by a group called IfNotNow Boston, called for U.S. Sen. Elizabeth Warren to urge for a ceasefire in Gaza, as more than 11,000 Palestinians have been killed, according to the Washington Post.
Emma Rose Borzekowski, a member of IfNotNow Boston from Somerville, said she has reached out multiple times to Warren to call for a ceasefire. 
"I've been to her office four times in the last month. I have sent emails, I have made phone calls and still she has been silent," Borzekowski said.
Borzekowski, who is Jewish, said she hopes that the event will urge Warren to have "the moral courage to take a stand" and call for the ceasefire.
In an open letter posted on Medium, IfNotNow Boston stated their reason for protesting on Thursday morning.
"More death will not bring back the people we lost. It does the opposite; it provokes more violence against Israelis and Palestinians alike," the letter said.
IfNotNowBoston expressed in the letter how it tried to work directly with politicians in power, including measures such as marching outside the White House and praying inside Congress.
On the organization's account on X, the platform formerly known as Twitter, IfNotNow posted a message addressed to Warren.
"So many of us voted for you, organized for you, even worked for you," IfNotNow wrote in the post. "Please, we beg you: call for a ceasefire. Stop the bombs, stop the suffering, stop the war."