Back home, some of my favorite memories consist of hanging out for hours with my best friends in our beloved overpriced cafes. Whether we're bouncing back and forth between our regular spots or trying new places, there's no better place than a cafe to procrastinate homework, drink expensive lattes and proceed to spit out said lattes from laughing too hard.
All this is to say that I'm a cafe connoisseur of sorts — please do not ask me anything about coffee though, I could not tell you a thing. So, when I heard that the "Friends"-themed coffee shop opened on Newbury Street this week, I had to give Central Perk a try.
The cafe is filled with motifs — from the iconic oversized mugs to the huge orange couch — that pay tribute to the show and its decade-long run on air. The menu is completely dedicated to different characters and episodes in the show like Joey's Meatball Sandwich, Rachel's Side Salad and the Moist Maker from "The One With Ross' Sandwich."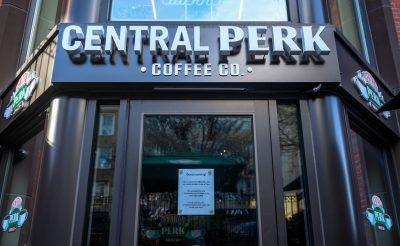 The death of "Friends" star Matthew Perry on Oct. 28 delayed the opening of the cafe, which was slated to start operations in late October.
Evidently, this place was absolutely packed. I ordered a vanilla nitro-infused cold brew, which they definitely had in the '90s, and a veggie sandwich in honor of my favorite character and vegetarian Phoebe Buffay.
Like I said, I don't know a single thing about coffee but the cold brew was delicious. A perfect balance of sweet from the vanilla and tartness from the acidic cold brew. The sandwich was also everything a hungry college student could want — surprisingly fresh and not from a dining hall. For a TV show-themed cafe, my expectations were incredibly low, but the coffee and food were exceptional. Well, exceptional is a strong word. The food was reminiscent of a sandwich from Panera Bread.
For what Central Perk delivered in terms of food, they let me down in terms of vibe. A good cafe should be dark, a little dirty and loiterable. You should be able to sit in it for hours and come out of it smelling like espresso and burnt toast.
While Central Perk is open from 7 a.m. to 7 p.m. seven days a week — which is actually pretty nice since most cafes close between 4 p.m. and 6 p.m. — it is certainly not the place where you can spend hours procrastinating the mountains of homework you said you were going to finish. In fact, I was eager to leave since they had the "Friends" theme song on repeat. That was the ultimate vibe-killer.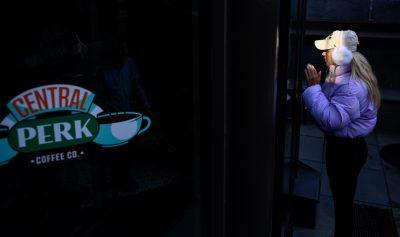 Of course, a cafe that meets these standards is incredibly hard to come by, but nonetheless, I was disappointed. The chairs and couches were hard and clean — they should be weirdly overstuffed and stained — and I came out smelling the same as I did when I walked in.
The main appeal of the TV-version of Central Perk is its intimate setting and moody lighting. The Boston version was the equivalent to walking into a McMansion owned by a millennial family whose kids' names are Jaxson and Laklynn. I assume you understand the vibe I'm talking about.
That being said, the cafe is not meant to be any of these things. At its heart, Central Perk is a fun tourist attraction for fans of the show to shop in the small souvenir section and take a photo on the signature couch. If you don't want to drop an embarrassing amount of money on a small coffee and a sandwich, just go up the street to Trident Booksellers and Cafe. Or, even better, the Panera on Stuart Street.