Traveling anywhere, as students, is far from a priority as it can be both expensive and time-consuming. However, a much needed break can be the key to doing well on whatever it may be you are working on. A change of scenery — even just for a day — is crucial when it comes to taking time away from studies and the stress of exams.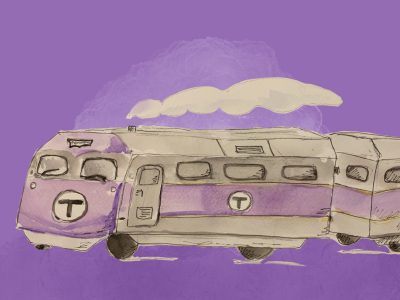 Don't get me wrong, Boston is a great city to explore, but for something a little further from "home," an hour ride on the MBTA's commuter rail takes you to Rhode Island's capital city, Providence. Round Trip tickets cost $23.50 round trip — or $10 with a weekend pass — , to go to Providence from Back Bay station, which is accessible via the Green Line and a short walk from Copley Station.
Little Rhody may be the smallest state — but Providence is full of some of the most unique food, art, shopping and nightlife in the country. It's easy for the cost of a day trip to add up, but planning the perfect student-budget friendly adventure is simple when you know the best bang-for-your-buck spots to explore. Much like Boston, Providence is accessible via rideshare services as well as rentable bikes and scooters if walking isn't quite your thing. 
Breakfast is the most important meal of the day, and luckily, Providence is home to endless cafes and breakfast spots! 
For a quick bite to eat check out Seven Stars Bakery, home to some of the best baked goods in the state. Made fresh in-house each morning, loaves of various types of bread and pastries go hand in hand with their coffees, espresso drinks, and teas. Hot or iced, sweet or savory, there is something for everyone. 
If a sit-down meal to start the day is more your speed, check out The Brickway On Wickenden for your traditional eggs, bacon, and pancakes with outrageous seasonal specials, and their famous eggs benedict. 
After fueling up, take a stroll down Hope Street located on the East Side. Unique locally owned shops with everything from gourmet olive oils and vinegars at Olive del Mondo, to one of a kind knick-knacks and home decor at Frog and Toad. Wayland Square, however, is home to two locally owned bookstores, completely different from one another: Paper Nautilus specializes in rare vintage and used books, while Books on the Square is full of the newest bestsellers for readers of all ages.
Equally as stroll-worthy is Brown University's campus, tucked right in the middle of the city. Enjoy some people-watching in the quad, or Prospect Park, overlooking the downtown area. Next to Brown is Rhode Island School of Design, or "RISD," as well as the RISD museum. With seven curatorial departments and visiting exhibits, tickets are $10 for students with valid school IDs, and free on Sundays.
Next to Brown is Thayer Street, full of even more little shops and places to eat, a great place to grab a bite to eat for lunch. East Side Pockets has some of the best and freshest mediterranean and middle eastern food like falafel, gyros and wraps. For something more sit-down, try Korean fried chicken and ramen at Den Den right down the street.
Before dinner, explore historic Federal Hill for authentic Italian groceries at Venda Ravioli and Tony's Colonial Food, and enjoy gelato in DePasquale Plaza. For a more upscale meal, the best Italian food in the state is packed into "Providence's Little Italy" with phenomenal pasta dishes at Costantino's Venda Bar & Ristorante and Angelo's Civita Farnese, or for a more casual option try a pizza or calzone from Caserta Pizzeria or Sicilia's.
One of the most iconic parts of Providence nightlife, WaterFire, happens through the Woonasquatucket River at Waterplace Park and the middle of downtown Providence on the Moshassuck and Providence rivers. Various burning braziers tended by volunteers accompanied by music and the unmistakable fragrance of the wood burning. A highlight of nightlife, WaterFire is always full of families, couples, and those just there to enjoy the community.
From dozens of places to enjoy amazing bites to eat, collect unique gifts and souvenirs, and experience the city's history, art, and nightlife, Providence is the perfect place to escape for a day. Being student budget-friendly, only an hour away by train and convenient to navigate – the next time you need a study break to clear your head or to get away with your friends, stop in Little Rhody.