Empty beer bottles littered the ground, while the crowd's playful jeering and loud laughter resembled that of an ancient Greek theater. This is no frat party, just an imitation — this is "The Boys."
"The Boys," a three-act play written and directed by Bridget Fekety and John Griffin, ran Thursday through Saturday at Boston University's Student Theater at Agganis Arena. The two produced their original play through Wandering Minds, a student theater group at BU that highlights non-musical productions.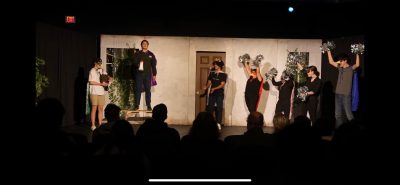 Fekety and Griffin, both juniors in the College of Arts and Sciences, adapted "The Boys" from the eleven surviving plays of Aristophanes, an ancient Greek comic playwright. The play takes place at a fictional BU fraternity and follows a war spurred by a stolen stuffed turkey vulture, Nebcott. Alliances form and bonds break in the battle for one fraternity to remain victorious, a feud that raises the question of what truly defines a "brotherhood."
Fekety never intended to direct a show. However, after reading one of Aristophanes' plays, "The Birds," a fantastical comedy about a man who enlists birds to help him build a utopia away from his city's corrupt bureaucracy, she formed an idea she couldn't ignore.
"Once I read that show, I was like, 'This is too crazy not to be seen by other people,'" Fekety said.
She took the idea to Griffin, who shared her energy and passion for the play. Fekety and Griffin then set out to adapt "The Birds" but ended up including the rest of Aristophanes' surviving works.
"I suggested to Bridget, why just 'The Birds' if we're going to be writing a new play entirely anyway?" Griffin said. "Why not all of Aristophanes?"
Adapting from an original work is tough, but adapting from an ancient Greek play that relied heavily on knowledge of ancient Athens was a feat in itself. Fekety and Griffin rewrote much of the play from an ancient Greek lens to fit into the Greek life setting they created. The two stripped down Aristophanes' work to its bare bones and reinvented it with their own creativity and color.
"The old Aristophanes doesn't translate well, especially to modern day audiences," Fekety said. "Facing some of those hurdles, we wanted to also add an element that was our own."
The directors aimed for a character-driven interpretation and set out to realize the development of each of the play's characters over the course of a fraternity rivalry. They expanded on "The Birds" by writing in some thematic elements of their own: friendship, found family and peace.
"The plot itself is loosely structured around Aristophanes' plot of events throughout his eleven extant plays, but the focus here is very much on the characters," Fekety said. "I think the metamorphosis that each of them go through is much more interesting and much more important than any sort of actual plot element."
Fekety and Griffin spent about a year writing and revising the script to make sure it maintained its humor and relevance. Their constant updating ensured that certain jokes would elicit their desired reaction and not fall flat.
"There was a joke [at] first about Kim Kardashian being a lawyer that was very, very funny and very topical when we wrote it, and a year later, no one really remembers," Griffin said about the need for the revision process.
The directors had to perfect their work before pitching it to Wandering Minds, a student theater group through which they were able to put on the play. After "The Boys" received the green light, Fekety and Griffin began the audition process and sought actors to help bring the play to life.
Leading actors Taylor Caroom, a junior in CAS, and Jasper Blume, a sophomore in CAS, each play multiple roles in "The Boys."
Caroom said playing multiple characters creates a fun challenge as she switches between the two, both in persona and in costume.
"I'm excited for the dichotomy of my characters," said Caroom, who plays Lizzie Stratta and Dick Oplis. "One's a sorority president and the other is a frat boy, so they're both very different and very fun in their own ways."
For Blume, switching between roles is "pretty natural" since he described both of his characters — Odie Suss and Professor Jones — as "fairly egotistical." He also attributed his ease at going between their roles to the way the lines were written.
Blume attested to the hard work of the directors in putting on such an elaborate production.
"They wrote this show, had to go through the entire pitch process of it and now they're directing it," Blume said. "They're both amazing and it's incredible what they've managed to do."