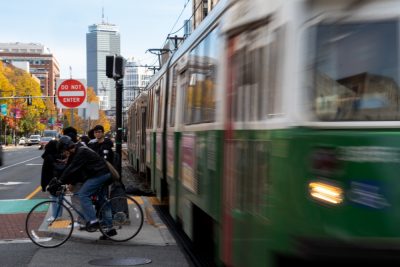 The Massachusetts Bay Transportation Authority announced plans last week to shut down various sections of all four lines over the next year as part of the MBTA's Track Improvement Program, sparking controversy among riders. The plan is to lift all speed restrictions and fix tracks across the system by the end of 2024, but with it will come 21 different closures across all four lines at various points throughout the next year. 
The first line to be shut down will be sections of the Green Line from Nov. 27 to Dec. 5, running from North Station to Kenmore, Heath Street and Babcock Street as well as a second closure from Dec. 11 to Dec. 20 for the section from Kenmore to Riverside. Beginning in February 2024 and lasting through the end of the year, all four lines will be impacted at some point.
"I think it's going to be a huge problem for people who move around by public transport a lot," said Marta Gogil, a student who lives in Brookline. 
In a Nov. 9 board meeting, MBTA general manager Phillip Eng said the initiative, called the Track Improvement Program, will address infrastructure conditions such as deteriorated ties and track and replacing ballasts, problems that if "left unattended in the future years would become speed restrictions themselves."  
In March, the MBTA launched an online interactive speed restrictions dashboard, which allows riders to view what sections of the track have speed restrictions.
According to the dashboard, as of Nov. 13, over 30 miles of track are under speed restrictions with the Green Line currently under the most restrictions with many sections of the track from North Station to Kenmore slowed to 10 mph or less.
Eng also discussed station conditions in the Nov. 9 meeting, adding that the program will include "enhancing lighting, enhancing the cleaning and making repairs that have been long needed in those stations." 
The MBTA said they will hold open houses both in-person and virtually to overview projects for riders to ask questions or provide feedback over the course of next year. The MBTA also shared that it will provide regular updates on the program's progress through in-station signage, social media, T-Alerts and their website.
Gogil said she often takes the Green Line, and she and other students who do not have their own cars rely on public transportation to get around. Considering the large population of students in Boston that rely on the T, she said it's going to be "a big trouble for us to move around." 
Rebecca Aponte, from Mattapan, said that when she lived in Charlestown, "there used to be some problems with the Orange Line and Haymarket." Even though she had a better experience with the Commuter Rail after becoming a Mattapan resident, she said it didn't last for long.
"They're horrible," Aponte said. "[The Commuter Rail] was great for about a year and then they started working on it maybe a couple months ago and there's delays all the time and they don't announce it sometimes, the signage is horrible, so it hasn't been great."
Augusta Crow from Mission Hill said she relies on the Green Line to commute to work. She said every time the train gets slower it impacts "every aspect of my life." 
"I kind of rely on it to get anywhere I need to go," Crow said.
On Thursday, the MBTA released a new capital needs assessment and inventory report, noting that nearly $25 billion will be needed for "rehabilitation or replacement" of various aspects of the T. 
Riders also took to social media to post their thoughts. In a comment thread in the MBTA's post about the program on X, the platform formerly known as Twitter, one user suggested a complete shutdown of the T system as a possible solution.
"The only way to get this done right is to shut down the entire system, and do it all at once," X user @berniefalcon wrote.
With the first shutdowns set to begin at the end of the month, the city is preparing to face a year-long schedule of construction with hopes for long-term solutions to the ongoing issues that plague the system.
"One of the key priorities … is safety of our systems, safety for our riders and safety for our workforce," Eng said in the Nov. 9 meeting. "The key to success … is not only what we're looking to do in 2024, but it's going to be that preventive, corrective, maintenance system that we put in place that stays on top of our system."