Boston University men's basketball snapped their season-opening three-game losing streak by scoring nearly double the amount of points they managed in their most recent loss. 
A celebration was warranted after finally getting into the win column against Bryant University, but the players did not appear so eager.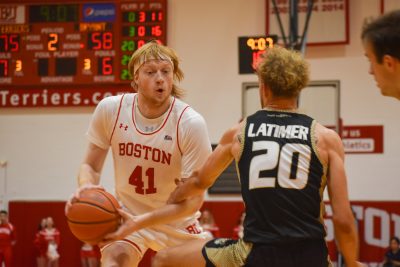 Case Gym erupted after the Terriers (1-3) won their first game of the season, but senior guard Miles Brewster was not so quick to rejoice after the 95-79 win.
"A mediocre team will have a win like that and be super happy, be overly ecstatic," Brewster said. "But a great team is going to say, 'Be happy, be proud of ourselves for getting over that hump,' but then it's 'Alright, what do we have to work on?'"
Brewster and BU head coach Joe Jones know there is still a long road ahead after defeating the Bulldogs (1-3) in their first home game of the season. 
"We have a long way to go. There's a lot of basketball to be played," Jones said. "This is a good start, but that's what it is. It's a step in the right direction."
There was still much to celebrate for the Terriers, who picked up a much-needed win after three straight road losses to begin the season. 
The Terriers had six players finish double-digit points, with contributions from veterans and guys playing their first career game in front of the home crowd. 
Sophomore forward Otto Landrum led the way offensively, scoring 19 points, including a dagger three to give the Terriers a 16-point lead with less than three minutes remaining. 
Freshman guard Kyrone Alexander and transfer junior guards Ben Palacios and Ethan Okwuosa, had strong games in front of the Terrier faithful for the first time. 
"I loved it. The atmosphere was great," Okwuosa said, who totaled 13 points, 10 rebounds and two assists, going 3-6 from behind the arc.
BU jumped out to an early lead, leading 10-3 in the game's first four minutes. The high-scoring affair would continue as Bryant climbed back into the game, tying the game at sixteen apiece midway through the first half. 
However, the Terriers pulled away late in the first with the help of Alexander and Palacios, who combined for five threes in the first half. With just under four minutes left in the half, Palacios connected on a one-footed, hail-mary three-pointer as the shot clock expired, giving the Terriers an eight-point lead and sending Case Gym into a frenzy. 
The Terriers went into the break up 47-37, only seven points shy of matching their point total from their most recent game at Howard. 
"If you watch the games, especially the Howard game, we played well, we just didn't make any shots," Jones said. "These guys can shoot the ball, so I'm not surprised that we shot the ball this well … This is the best shooting team we've had here in a long time."
One of the team's most significant weaknesses throughout the season's first three games was late-game execution. 
"Our last two games, we had control for a good portion of both those games, and we let them slip," Brewster said. "We talked about that, how we can't let that happen anymore."
It almost seemed like the Terriers would give up yet another lead and leave their home opener with a 0-4 record, as Bryant cut what was once a 22-point Terrier lead to just seven with just over five minutes to play.
However, the Terriers buckled down and finished strong, keeping control of the game late. 
"We're prone to things like that because we're a young team, so we can easily get ahead of ourselves, and Coach was being persistent," Brewster added. "It was just about staying composed … and we just had to keep doing what we were doing and don't rest on our laurels."
Landrum had seven of the team's final nine points, including a dunk and a three from the top of the key, giving BU a 16-point lead with less than three minutes left and sending Bryant on their way. 
"I feel like we're learning every day. This game compared to our first game, we definitely took steps, we took strides," Okwuosa said. "Coach is doing a great job with us, being patient. We're all gelling at the right time."
The Terriers now look to build on Thursday night's win in their next game in five days against Davidson College.