After winning both the regular season and postseason Patriot League titles, the Boston University men's soccer team fell 3-1 to reigning national champion Syracuse University in the first round of the NCAA Men's College Cup on Thursday night.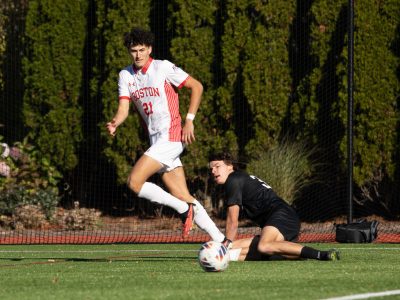 The Terriers (12-4-4, 7-1-1 Patriot League) rolled through their conference tournament opponents, riding two shutouts to the Patriot League Championship title before looking to the NCAA tournament. Meanwhile, Syracuse (9-4-7) was ranked No. 18 in the most recent United Soccer Coaches poll, earning an at-large bid to the tournament after falling out of the Atlantic Coast Conference tournament in the semifinals on Nov. 8.  
"At this point in the season, every team [you play against] is going to be good. [We're] on the road and playing a really good side in Syracuse," said head coach Kevin Nylen. "But also at this point in the year, there's such a level of confidence with our group."
Syracuse was without significant starpower all of 2023 following the loss of their previous season's leading contributors in a pair of forwards: sophomore Nathan Opoku and senior Levonte Johnson. They also returned only six starters from the national championship-winning lineup.
All things considered, the Orange, coming from the highly competitive ACC that sent nine teams into NCAA competition, were well-favored to march on to the next round unshaken by their first-round foes. The Terriers, however, were eager to prove their abilities outside of their own conference after making their first NCAA tournament appearance in 15 years.
Not even three minutes in, BU announced itself loud and clear as senior forward Eitan Rosen, familiar with big-game moments this whole season, converted on an assist from sophomore forward Alex Bonnington to give the Terriers an early lead.
"The goal was one of the patterns that we looked at, a good high-low interchange to draw them out," explained Nylen. "[Bonnington] did a good job to fill that space … and [Rosen] did a great job to finish it off."
Despite the early lift, it would be irrational to think a one-goal lead would last long. After all, BU was playing the reigning champs in a win-or-go-home game with a repeat and a reputation on the line.
Syracuse may have been without ACC co-midfielder of the year Jeorgio Kocevski after the senior picked up a red card in the Orange's last game, but they didn't seem to miss him for very long. Twenty minutes after falling behind, the Orange found an equalizer before piling on two more. Their second and third came only 37 seconds apart.
"Once you concede one, that gives the opposition a little more, and it's down in front of their [student section]," Nylen said. "They put pressure on us, and they had good service."
Syracuse sophomore forward Nicholas Kaloukian found himself with a first-half brace as the Orange regained dominance and continuously pressured the Terriers. Syracuse thoroughly dampened any momentum BU mustered in the opening minutes. 
A two-goal deficit would typically deflate any team, but BU, with something to prove, managed two more shots in the dwindling minutes of the opening frame. Now, they had to regroup and dig deep to prevent the end of their season.
"I said to the guys down 3-1, 'We can roll over and have fear, or you can go out and give it all,' and I knew, before I even had to say that, I knew what would take place," Nylen said.
The Terriers were able to maintain a competitive spirit and fire off a few more chances in the second half. One of the most promising came when Bonnington managed to get his head on a crossed ball, but the striker was denied by Syracuse sophomore goalkeeper Jahiem Wickham.
Characteristically, the Orange did not let up despite the Terriers' newfound aggression. They forced senior goalkeeper Francesco Montali to make five more saves, and he finished with a season-high of seven.
As the second half went on, the Terriers stayed strong, but the back of the net continued to evade them in pursuit of a comeback. Their fate became clearer and clearer with each near-miss.
"[In] the second half we were aggressive. We played with purpose, and we had a passion about us," Nylen said. "I felt … if there was a second goal by us, we could have gotten another. That's why you love this game, and that's why you hate this game at the same time."
The rough 10 minutes from the middle of the first half was ultimately enough to end the Terriers' season. Despite the inevitable bitterness and disappointment, however, Nylen made it abundantly clear that the experience still bookended a historic season.
"When they all look back on it, it's emotions because they're so invested. They love what they do. They love who they do it with, and that's a special group," Nylen said. "I'm with them on those emotions. They've done everything this year. They've poured their heart and souls into everything that we've asked them to do."