JetBlue Airways announced new non-stop flights from Boston to Dublin, Ireland and Paris, France starting in spring 2024, with some round trip fares starting at $399, according to an Oct. 25 press release. 
The airline's daily seasonal service from Boston Logan International Airport to Dublin Airport will begin on March 13, 2024, and continue until Sept. 30, 2024. The "highly anticipated" service from Boston Logan to Paris Charles De Gaulle Airport will begin on April 3, 2024, and will be available year-round.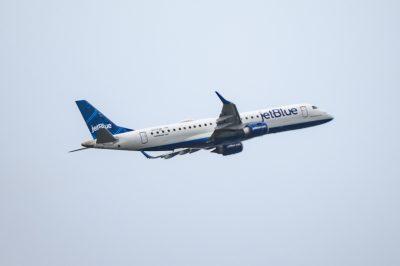 JetBlue is also launching seasonal flights to Dublin and Edinburgh Airport in Scotland from New York's John F. Kennedy Airport — which they call a "Celtic Combo" — and a second daily flight to Paris from JFK. Tickets to all of these destinations went on sale on Oct. 25, according to JetBlue.
Kyle Potter, executive editor of the Thrifty Traveler, a travel and flight deal website, described JetBlue's announcement as the "next round of expansion" for the airline, which began offering nonstop, transatlantic flights just two years ago from JFK, starting with London and adding Paris and Amsterdam soon after. JetBlue currently offers transatlantic flights from Boston to London and Amsterdam.
"I just flew back [on] JetBlue from Amsterdam to Boston, so I wouldn't hesitate to take advantage," Potter said. "Above all else, more airlines flying nonstop between the U.S. and Europe is good news for consumers because more competition between the airlines always means lower prices."
The only other airlines that offer non-stop flights to Dublin from Boston are Delta Airlines and Aer Lingus, with Delta and Air France being the only others to offer non-stop flights from Boston to Paris.
Tufts University student Aidan Keusch said the affordability of these flights entices him to book a flight. Keusch is a frequent JetBlue flyer.
"It's really hard to find affordable prices … taking advantage of a flight 'to go across the pond,' as they say, would be pretty good," Keusch said. "I would definitely take advantage of it."
Northeastern University student Ashley Rex said when she flew from Boston to Paris she believed the flight was more expensive than what JetBlue is offering now, and that she's happy the flight is non-stop. 
"I do remember that we had a layover, so it being a direct flight is huge," Rex said. "If people find out about it, I think it will be big and a lot of people will take advantage of it, especially because people study abroad in Dublin a lot, especially at my school."
Potter, who typically flies Delta, said JetBlue's announcement is more than just a milestone for the company but for the competitiveness of international travel out of Boston.
"As the airlines continue to fight it out for passengers flying in and out of Boston, we'll continue to see that because it's not just JetBlue that matters in this case," Potter said. "It's what JetBlue's presence starting next year means for flying Delta nonstop to Dublin and Paris, or flying some of the other airlines that already operate those routes. It really is, bigger picture, going to be a win for consumers whether they end up flying with JetBlue or not."
Potter said Delta, who flew their largest-ever transatlantic schedule this past summer, has helped Boston Logan become a bigger and more competitive airport.
"Boston has, within the last maybe five years, become a really, really competitive airport, especially for transatlantic airfare to Europe," Potter said.
Tufts University student Mason Shultz said he is happy he will have an easier and more affordable avenue to Europe to visit his girlfriend, who is studying abroad in Florence, Italy next semester.
"As someone who's only flown on JetBlue their entire life and refuses to fly any other airline, I would say that this is massive for the [company]," Shultz said. "My girlfriend's going abroad next semester actually, so this is great news that I didn't know was a thing until just now. I'm pretty happy … because now I can utilize it."
Potter, who is based in Minneapolis, Minnesota, said he wishes his local airport had as many destination options as Boston Logan does.
"I'm very jealous of people that live near Boston Logan and can hop on all these new options to get over to Europe," Potter said. "Before the pandemic, we noticed a trend that Boston was one of the best airports in the country for getting to Europe for cheap, and that continues today, so that's amazing … and by the looks of it they're only going to continue to get better."