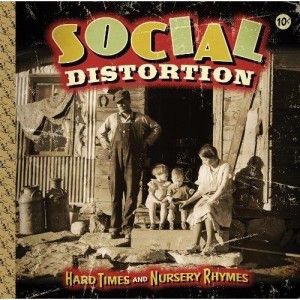 With Hard Times and Nursery Rhymes, Social Distortion's seventh album and their first released through Epitaph Records, frontman Mike Ness delivers a large dose of pure country blues that adds a unique twist to the band's traditional punk rock sound.
Ness' rough, gritty vocals that popularized catchy choruses on past hits including "Ball and Chain" and "Story of my Life" lend a more mature yet still fun and feel-good vibe on Hard Times and Nursery Rhymes. Ness attempts to expand his musical knowledge and skill and succeeds in modifying Social Distortion's raw, hardcore punk sound (which has defined the band since its formation in 1978) with a smoother, rockabilly touch. On the album's fourth track "Diamond in the Rough," Ness combines the somber tale of one man's life hardships with a deep guitar melody and a strong, rhythmic drum backbeat. Rookie drummer David Hidalgo, Jr. does a superior job of maintaining former drummer Adam "Atom" Willard's fast-paced tempo and does not miss a beat when it comes to preserving Ness' golden skill on the Gibson Les Paul. On the song "Bakersfield," Ness again gives off a country music feel by transforming the song into an emotional folktale still supported by a solid punk rock sound heavy with guitar riffs and solos.
Ness, inspired by a short solo career in the late 1990s where he focused mainly on the country genre, imbues this newfound talent focused on bluesy lyrics and style into the band's overall punk rock mentality. The end result is a tasteful combo of raw, punk attitude with just the right amount of laidback, southern comfort. It is country without the cowboy boots and southern drawl. It is rock 'n' roll without the groupies and late night drug busts. Ness is not afraid to enter new musical territories with this album, using female backup singers on many chorus lines instead of relying on his own vocal transitions. The upbeat choir, personified on the track "California (Hustle and Flow)," adds to the overall country-rock feel, similar to Kid Rock's 2007 Rock N' Roll Jesus.
It seemed as though Ness was about to plunge Social Distortion into the same whirlwind of destruction as Guns N' Roses' frontman Axl Rose (with his failed attempt at redemption with 2008's Chinese Democracy) given the new album's ever-changing release date, originally scheduled for 2007. Instead, Hard Times and Nursery Rhymes represents a band able to combine different musical sounds and genres with crisp precision and craft.