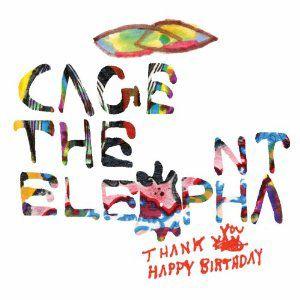 When Cage the Elephant came screeching out of Kentucky in the summer of 2008 with its special blend of country, punk rock and funk manifested through jet-fueled live performances, they became an instant international success. Their self-titled debut topped charts on both sides of the Atlantic in the wake of the hit single "Ain't No Rest for the Wicked." In the last two years, Cage the Elephant has toured relentlessly in support of acts such as Silversun Pickups and Manchester Orchestra, in addition to festival appearances at Bonnaroo, Outside Lands and Lollapalooza – all while constructing their sophomore studio album.
But for those fans expecting a return to form, Thank You, Happy Birthday (Jive) may leave you a little confused. In fact, despite debuting at #2 on the Billboard charts this week, it may leave everyone a little confused – but that's not necessarily a bad thing. Recorded in Nashville, Cage's new release feels like two, if not three, albums in one, jumping back and forth between styles at will. On the one hand, there's a definite feeling of 90s inspired alternative rock and post-grunge. On the other hand, there's the influence of hardcore scream-punk and noise rock. And on still a third, mutant hand, there's the inescapable club and techno beats that periodically appear throughout the album. The album is disorienting and spastic, to say the least, but it doesn't disappoint.
"Always Something" plunges listeners straight into the chaos, opening with a pulsing house beat that immediately devolves into lead singer Matt Shultz's eardrum-piercing screech. And in another genre shift, dance-worthy disco guitar riffs move in and out of the track. "Aberdeen" pays tribute to post-grunge, 90s rock n' roll a la Offspring and Everclear with a healthy dose of The Pixies thrown into the mix. Strong punk riffs and an oh-so-singable chorus culminates in Shultz's warbling cries of "ABERDEEEEN!"
"Indy Kidz" showcases the heavy guitar licks of rhythm guitarist Brad Schultz and lead guitarist Lincoln Parish. Mixed in with Matt Schultz's screaming lyrics, the dual guitars produce a vicious and spooky sound that might feel at home in a 60s spy film. As the song progresses, Cage tones down the intensity and shifts toward a plodding bass line and drums courtesy of band mates Daniel Tichenor and Jared Champion, respectively.
The album's hit single, "Shake Me Down," (already at the top of the U.S. charts) begins on a slow, melancholy note cut with quick drum bursts and dreamy guitars alongside a sad croon of "Ooooh." The song breaks down around Shultz's repetition of "Even on a cloudy day…" over sweet synthesizers and harmonies, while maintaining Cage's established country-punk bite. Later tracks "Right Before My Eyes" and "Around My Head" recall Irish pop-rock band Ash's Meltdown (Warner) and exhibit some of Matt Schultz's best singing, songwriting and raw emotion. The album ends on "Flow," a six-minute groove complete with bongos and bells before shifting to an alternate version of "Right Before My Eyes."
Though Thank You, Happy Birthday may come as a shock given Cage the Elephant's established past success, it is the mark of a band bent on experimentation and opening new musical avenues. The album may disorient some, and outright confuse others, but it's a fresh and well-executed release that bodes well for the future of the band. You couldn't pin down Cage the Elephant if you wanted to, and it's probably for the best that you don't.