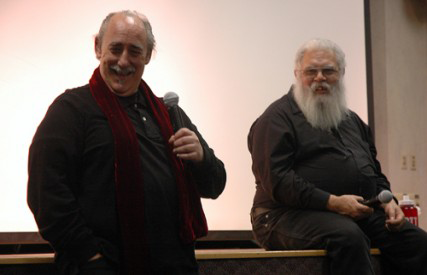 Prejudice against homosexuals that has been prominent in American culture is strikingly similar to the discrimination against African-Americans that ran rampant in the 20th century, said author Samuel Delany in a lecture on Friday.
Delany and filmmaker Fred Barney Taylor spoke at the College of Communication  for a screening of Taylor's documentary "Polymath, or the Life and Opinions of Samuel R. Delany, Gentleman," as part of COM's Cinematheqùe  series.
Boston Phoenix film critic and Suffolk University professor Gerald Peary, who curates Cinematheqùe, chose Taylor's documentary to commemorate Black History Month.
Taylor's film, which debuted in 2007 at the Tribeca Film Festival, focused on Delany's views on sexuality, writing and race relations in the United States.
While Peary introduced Delany as the "godfather of cyber-punk" and a "legendary writer of our times," Delany spoke differently of himself in the film.
"I wish I thought of myself as an interesting person. But I think of myself as an ordinary, dull, black fa—-," Delany said.
The film portrayed Delany's perspective on his life as an African-American and on sexuality. He discussed the history of his family, from his enslaved grandfather to his life growing up in Harlem, N.Y. paralleling the prejudice against African-Americans to current prejudice against homosexuals.
"People are unaware of the amount of sex available for gay men. Sex made the work bearable, even worth it. While I was writing, I would have sex with 13 to 14 people a day," he said in the film.
While Delany engaged in many relationships, writing remained his primary focus throughout his career.
"I never stop thinking about writing," he said. "The type of relationships you form in cities is what my writing is all about."
After the film, Delany and Taylor took questions from the audience and discussed their careers and Delany's promiscuous homosexual lifestyle.
"I just wanted to work with [Taylor]. His works are so visually satisfying," Delany said. "He turned himself loose. I hope it was enjoyable, possibly educational, showing what a gay, African-American writer thinks about the world."
Students in the audience said that Delany's personal history and experience as an author drew them to the screening.
"I read his book, 'Times Square Red, Times Square Blue,'" said Tony Coleman, a student in the College of Arts and Sciences. "It was fantastic. His presence just drew me to him."
"I just wanted to see and get a chance to talk to this extremely interesting man," said Christopher Holland, a student in the School of Theology. "I didn't think the film was the most organized thing, though, and didn't do justice to Delany's life."
Matt Hollis-Lima, a first-year COM graduate student, said he was not impressed by the film, but found Delany's life to be intriguing.
"He's done so much and has such different views on people and life, I had to come check him out."